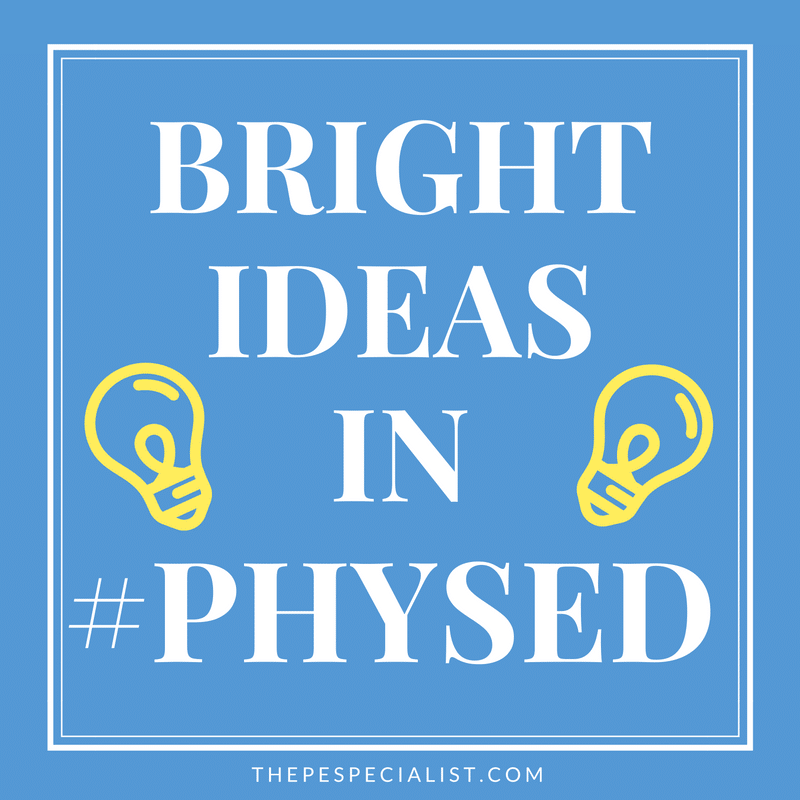 There are TONS of great ideas being shared all over the internet each and every day.   Every couple of weeks I try to pick my top favorites and save them to try and remember to implement them in my teaching later on when the idea is relevant to what I'm teaching.
Recently, I decided to start sending these ideas out to my email subscribers every month, but I also thought it would be nice to have a page for them on the site to reference back to if you ever want to.
If you want to check them out you can see the past emails below.
If you're not getting my updates, you can subscribe to my email list for regular updates for free HERE
*NOTE: Most of these linked sites are not managed by me, so if they are broken, it's out of my control – but let me know and I can take any broken links down.  Thanks!
October 2018
Tips on Advocating for your PE Program and a Pre Made Powerpoint to help (Barbara Grattan)
Cool Idea for making Locomotor License Cards from Mike Graham
April 2018
March 2018
Great Ideas for Spikeball Leadup Activities (Dave Carney)
Provoking Students to Connect with your Content (Andy Vasily)
February 2018
January 2018
November 2017
October 2017
SEPTEMBER 2017
New games/activities in the PE Resources section on Mike Graham's website
Blog post on Connected PE going over the research and stats connecting physical activity and fitness with cognitive ability and academic performance by Justin Schleider
Not new, but here's a great video by Seth Godin on asking the question "What is school for"  (you can also download his free E-book on this topic HERE)
Tons of teachers shared ideas at the Phys Ed Summit (a free online PE PD conference put on by Team Physedagogy) – you can replay all the video sessions on their youtube channel HERE
AUGUST 2017
Interesting Video about the concept that we should be promoting Movement over Exercise
APRIL 2017
MARCH 2017
Great Advocacy Video explaining the importance of Physical Activity and PhysEd
FEBRUARY 2017
2 Awesome Twitter Chat conversations from the #ESPEchat community
Solid App to supplement any Gymnastics Unit (great tutorials, tips and graphics for tons of basic movements and skills)
Cool infographic from SPARK that you put on your school's PE page for advocacy purposes
Some great social media shares on easy ways to "gamify" through self paced activities (endless variations/modifications) I love these types of frameworks because they are so easy to use with any skill or content area
JANUARY 2017
DECEMBER 2016
NOVEMBER 2016
Noodle Bits Activities from John Smith & Flaghouse (PS – check out their other videos, looks like a great Youtube Channel in the making)
OCTOBER 2016
SEPTEMBER 2016
Free Exercise Signs for PE 
AUGUST 2016
Back to School Games (Team Building Focus)
Phys Ed Summit is on Saturday!   It's a free online PE Conference put on by some of the best and brightest PE folks I know.
APRIL 2016
Free FIELD DAY GUIDE from S&S Worldwide & PE Central

Some good ideas for your next Field Day Event
Ben's Feature on the PE Umbrella Podcast

Great PhysEd conversation with Ryan Ellis of The PE Umbrella
Great episode called "Take the Red Pill" on The Fundamental Movement Podcast

A PhysEd conversation with some great questions about the purpose of PhysEd and where we need to be headed in the future
Tons of ways to use a 4 Square Court Blog Post

Great ideas from a new blog by Mark Banasiak
MARCH 2016
Walking Reflection Blog

via

Andy Vasily

A good alternative to Time outs
FEB 2016
Below you'll find some of my favorite internet finds for Physed over the past couple of weeks!
JAN 2016