One of the questions people ask me a lot is:
How do you do fitness testing? 
So, I decided to write this post as an answer to that question.
Just to be up front – this post is DESCRIPTIVE, not PRESCRIPTIVE.
What I mean is that I'm not saying you should do things the same way, I'm explaining the way I do things to give an example and hopefully be helpful.
You're specific school, students, teaching style and district requirements are different than mine – so you should always do what you think is best for your kids.
Honestly, this is one of the units that I struggle with the most. I've brainstormed lots of different ideas and thought about different ways to do "Fitness Testing" and I'm still not 100% sure if it is the best way to reach kids and teach them about exercise.
I do see the value in preparing students for Middle and High School programs where I know they will be participating in Fitnessgram – and I know from talking to secondary teachers that they are very grateful when students come to them already familiar with the testing protocols.
I also see the value in helping students learn to set goals, and then allowing them to see improvement over a year with pre and post-tests.
The only thing is, I'm not really sure if the number of students that are being impacted positively is worth the ones that might be getting turned off to exercise all together.
Sometimes I ask myself, if it's worth it to improve a students' fitness levels through goal setting if they get turned off to exercise during the process?
I also am constantly asking myself… "Is this the best use of my instructional time, or would we benefit more from doing something else"
In my personal situation, our state and district requires fitness testing, so I don't really have the option of debating whether or not to do it.  If I wasn't required to do it – I think I might end up creating an American Ninja Warrior Unit or some other themed fitness unit that kids would resonate with a little more than doing exercise to a cadence.
All that to say – this is how I do Fitness Testing in my PE Classes.
*Note: I have 50 minute classes, once a week.  So this unit usually takes about 3 Weeks in the Fall for a Pre-test.  3 Weeks in the Spring for a Post-test.  My class sizes are usually around 25-30 students for a single or 50-60 with 2 classes and 2 teachers.
Week 1 – Pacer Test
*Note I already covered the Pacer Test in detail in another blog post HERE
Pacer Summary Below
K-1st does a modified pacer for fun and then works on Locomotors
2nd – 5th – partner up and run the test while your partner helps you count and watches for mistakes, switch it up after the first round.
4th and 5th Fill out their Fitnessgram Goals Setting Worksheet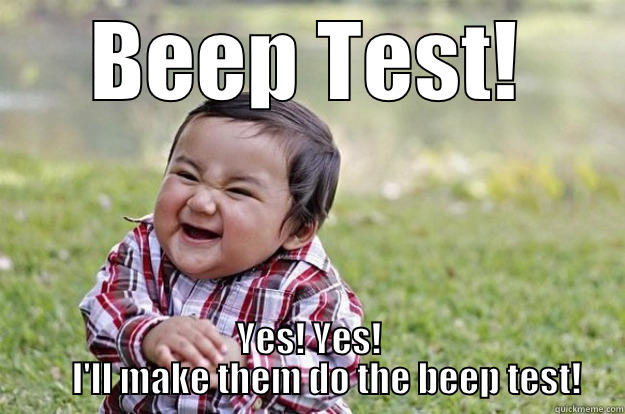 *Funny memes aside – most of my kids actually love doing The Pacer Test
Week 2 – Curlup Test
This week with 2nd – 5th we used to do a quick demo (CLICK HERE FOR AN EXAMPLE), to go over the test rules – but now I just show my kids the video below that I created to go over the test:
After the video – I take questions and then I assign half the kids to the curl-up mats and half the kids count for a partner.  We go through one round and switch it up and repeat.
After the test I have different activity stations set up and the students rotate around while I do testing with about 25% of the class at a time.  We do the Sit and Reach Test (3rd – 5th) and with 4th and 5th we also do Height and Weight measurements.
Activity Station Examples
Jump Rope, 4-Square, Hula Hoop, Scooters, Throw and Catch, Rock Wall, Team Jump Rope, Single Jump Rope, Pushups/Curlups Practice, Basketball, Rope Swinging, Spooner Boards, Just Dance
I also made an explanation video last year which I have the students watch, because I got tired of explaining the same thing over and over again 1 zillion times.
Check it out below if you want:
P.S. Yes, I am aware that the official way to do sit and reach is with your knee up in the air, just found that out after making the video above 🙂
Usually, we don't completely finish all the Sit and Reach and Height and Weight in one class period since we spent time on the Curlups Test.  If have any students that didn't get a chance to do complete the assessments, we get to them the following week after the Pushup Test.
Week 3 – Pushup Test
The way I do Pushups is essentially the exact same way I do Curlups.  Watch the video overview, then split kids up and half the class tests while the other half counts – then we switch it up.
My Pushup Test Explainer Video is below: 
I do tweak the procedure a bit by using Dome Cones for kids to go down and tap with their chest instead of trying to explain a 90 degree angle at the elbow – I've found it's just easier for kids to keep track with the cone.  (see below)

After the test, kids finish up any Sit and Reach or Height and Weight that we didn't get to the previous week.
If the class already finished everything during the previous week, I give them a choice of doing stations or playing a fun game.
At the end of the year I print reports with their scores and progress for all of my 4th and 5th grade students.
A few closing thoughts:
Always explain WHY you are doing the testing – My why is "to help kids see where they are currently and learn to set goals for the future and know how to achieve them"
Yes – 2nd graders (or any grade) will be horrible at doing pushups/curlups/pacer if it's the first time they've ever done it.  Nobody is awesome at something the first time they try it… don't worry, don't put a ton of pressure on them to perform well and don't expect them to be awesome – you have 3 more years with them.
If kids physically can't do the exercises, teach them lots of modifications that they can use to practice at home and build up strength, a few examples below:

Shoulder Tap Pushups – Tap your shoulders in pushup position
Modified Pushups – on your knees
Hand Release Pushups – Go all the way down to the ground and then pushup back up
Reverse Curlups – Start in the up position and go down super slowly
Weighted Feet Curlups – have someone hold their feet or put them under something heavy while curling up

How I record the data

I just write student's scores in on my rosters and transfer the scores to the computer for printing my fitness reports at the end of the year with my 5th graders.
4th and 5th also keep track of their own scores by recording their scores after each test so they can set goals and measure their own improvement – I created a Fitnessgram Goal Setting Guide to help accomplish this (see below).
My Grade Level Variations Overview:

K-1st – Learning basics of exercises and modified pacer
2nd – Intro to Pacer/Curlup/Pushup

I call it a "practice test"

3rd – Intro to Sit and Reach
4th – 5th – Intro to Height and Weight and tracking their own scores, doing personal goal setting and working to achieve their goals by the end of the year (Goal Setting Guide).
Other Great Links/Resources on This Topic:
Hope that was helpful and good luck on determining the best way for YOU to do your own Fitness Unit.
If you have tips, tricks or want to share different ways of doing thing, leave a comment below.
Also, if you are totally doing self assessment for fitness testing – I'd love to hear about that, I've been considering making a change towards self assessment in the future (since it's a more useful and usable life skill)
Have Fun and Teach On!