Here are my 5 favorite Classroom Management Ideas
Having good classroom management is a must if you want to be able to effectively teach your students.  It doesn't matter how good you are at presenting the info, teaching the skill or even how applicable the content is to your students – if you have poor classroom management you won't be able to teach effectively because of the distractions from organizational or behavioral problems.  
Throughout my years of teaching I am always looking for ways to improve.  I have developed some routines and procedures that have really helped to streamline most of my management troubles and give me more time to do what I love – teach my students!  All of my routines and procedures regarding management are focused on automating the non-instructional tasks in my lessons and putting more responsibility on the students in my classes.  
These Classroom Management Hacks Accomplish Two Things

First – They give me more time to teach since I am spending less time on management and organization.
Second – They help my students learn to take responsibility for themselves  
Teaching students self responsibility is a huge focus of mine throughout the year and one of the most important things I think we can ingrain in our students as they progress through the school system.  
"I can give you the keys to success… but you have to open the door yourself"
I discuss the quote above to my students all the time.  I really hope that one day they will realize that the best teacher in the world can't help them if they won't take responsibility and use the information and content that schools are trying to deliver to help make their lives better.
Here are my top 5 favorite classroom management Hacks:
1.) The Conflict Corner
This strategy is my favorite time saver when I have students who want to tell me about what somebody else did wrong (tattle tales).  Especially at the elementary level, this can be a big time waster, not to mention exhausting for the teacher.   This poster is up in the corner of my gym and students must go follow the steps in an attempt to resolve the conflict on their own before coming to talk to me about it.  For more info and a video of how I teach it to my kids you can check out my previous blog about it HERE.
2.) Daily Student Self Assessment
Using the logic from the book Teaching Personal and Social Responsibility Through Physical Activity this self assessment strategy is an easy way to build assessment into your program and make sure students are aware of their performance in your class.  Assessment can be a little overwhelming at times, especially if you teach Elementary and have over 600 students to keep track of.  I've found this to be the easiest way to make sure get daily feedback from students and to communicate to them that their performance in my class matters.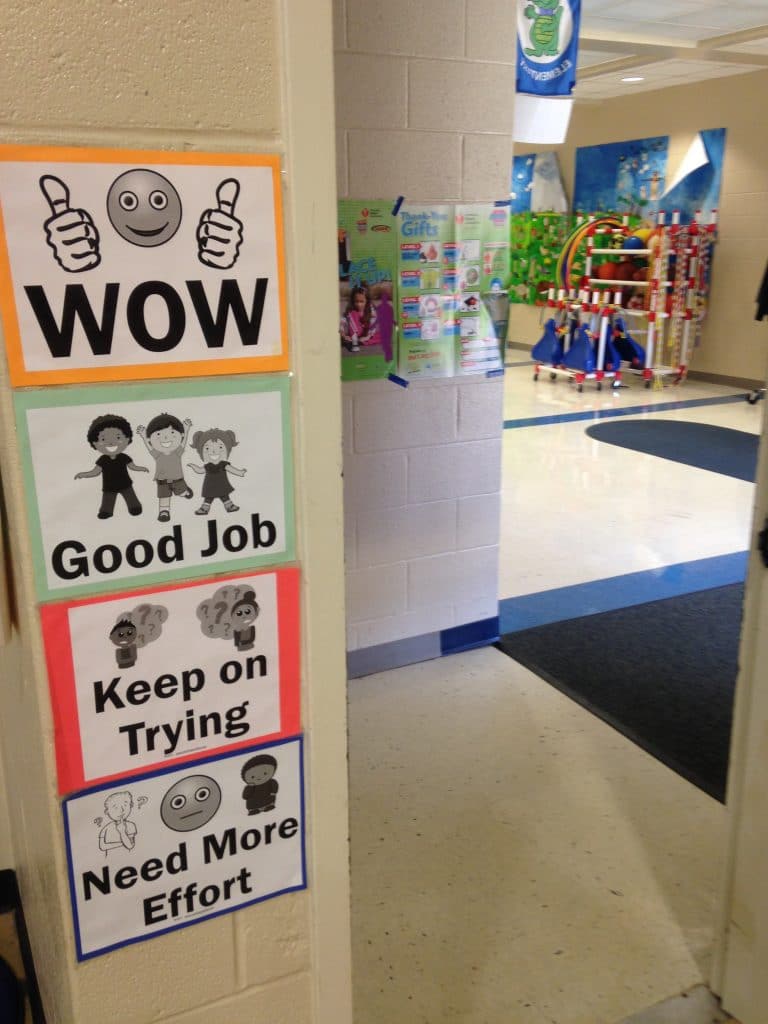 Each day on the way out of the gym students will hit one of 4 Grading Signs that I have glued on my wall.  Their choice indicates to me how they performed in Physical Education class for that day.  At the beginning of the year we go over the system and then during each class I give them "Bonus Challenges" to try and reach the WOW level for that day.  You can get more details and see a video of my students grading themselves HERE.
There are lots of Phys Ed Teachers using self assessment everyday with their students you can find tons of ideas by just consulting with "Dr. Google" 
3.) The Good Sportsmanship Code
Usually my kids are pretty awesome about using Good Sportsmanship – it's one of the things that I regularly stress, emphasize and try to build into my classroom culture.
But… every now and then kids will get really into a game, especially if I have the perfect mix of competitive kids and mind-blowing, out of this world, incredibly fun games.  So I created this poster to help out whenever my class begins to forget one of my favorite sayings…
"It's Just A Game"
Anytime there is a hint of poor sportsmanship, I stop the class, we pause the gameplay and the entire class sits in front of the Good Sportsmanship Poster and recites it like the pledge of allegiance.  This is a great way to reset our internal compass and remember that winning the game wasn't the most important objective in Physical Education.  For more info and a video example you can check out my previous post HERE.
4.) Time out, Inappropriate Shoes or Injury Form
If you're classes are anything like mine the beginning of class sometimes begins with a few students coming up to you with excuses about being unable to participate or wearing inappropriate clothing.  This can sometimes be a time killer at the beginning of class.  That's why I came up with this form to automate the process and also create some parent communication.
Anytime a student forgets tennis shoes, isn't feeling well, gets injured or goes to time out – they know to go to the wall, get a hanging clipboard and fill out the orange form.  They will then take it home and get it signed by their parents before the next PE class.   It works great and gives me more time to teach, since I spend less time dealing with some of the more common issues in PE.  You can see a video explanation HERE if you're interested.
5.) Self Timed Penalty Box
This is a great strategy for those situations when students break a rule during gameplay or even for a time out or refocus.  Instead of asking students to wait on you to tell them to return to the gameplay or lesson – have students use a stopwatch or iPad Timer to time themselves for 60 seconds, or go super low-tech and have them count to 60-Mississippi's and then return to class.
Anytime students break a rule during gameplay in my class (ie. stepping over a line when throwing a ball) they put themselves in the "Penalty Box" by sitting on the bench and timing themselves for 60 seconds – after 60 seconds they return to the game.  Many times my students will put themselves in the penalty box without my direction.
This strategy allows you to keep teaching, providing feedback or monitoring the gameplay.  Once again, this places the responsibility on the student to monitor themselves… Do we see a pattern?
As I mentioned, I always try to take advantage of any kind of system that I can implement that will encourage students to take responsibility for their own learning – I think this is super important.
I hope you can use some of those Management Hacks.  If you're interested in hearing about more of my PhysEd Hacks then make sure to check out my presentation on PhysEd Hacks that I gave at the #ESPEchat Online Phys Ed Summit.   You can watch it HERE
Hope you guys all have an amazing week, let me know if I can help you in any way!
Have Fun and Teach On!