When my kids walk into their Physical Education class, our routine is to get into a quick warm-up or instant activity.   Then we do a little stretching and get into our lesson for the day.
Start Simple
At the beginning of the year I usually keep the warm-up really simple and do walking lines and jogging lines (jog the sidelines and walk the endlines) to some upbeat music for about 2-3 minutes.  As the year progresses we'll add some more locomotors like skipping, galloping, sliding, and even going over or under hurdles while traveling on the boundary lines.
Also – Sidenote, for every K-2nd Grade class I always start by reviewing 3 important rules (see below)
Keep it Interesting
Once my kids are in a good routine I start to mix it up with some other instant activities.   Sometimes we add challenges related to the unit we are teaching – for example balancing a ball on a paddle or dribbling a basketball while you are traveling around.
For an example, check out the video below:
The formula above works great for any unit that you're teaching, but another classic that my kids love is the Thunderstick Challenge (especially popular during our Jump Rope Unit).  Check it out below if your not familiar with it.
Basically, I have the kids all come to the middle and if the rope hits their feet – they either head to the walk/jog lines, or grab a jumprope and practice until the 3 minute timer is done.
Another great Jump Rope Warmup – is doing the "Whirlwind Challenge" for 3 minutes, same rules as Thunderstick if you get eliminated (Shoutout to J.D. Hughes for showing me this awesome jumprope game)
Other times I need to setup or take down equipment, take attendance or do some other management task – in those situations I use warm-ups that are plug and play – so the kids are engaged and active while I'm getting ready for the lesson.  
Also another great warmup is The Fastest Class Challenge, check it out below:
Links from the video below:
Plug and Play Activities
These are my Top 5 Favorite Warm-Up Activities.  They are great for those situations when need to transition or prepare for the next lesson, but also need to get your class warmed up.   Just setup a projector or plug into a TV and you are good to go.
If you don't have to do another task like setup equipment or take attendance you can join in the activity with your kids and lead by example, while also offering feedback and refinements throughout the activity.
Note: The first 3 activities will require a screen, TV or projector of some kind.
FitnessBlender
By far my favorite fitness Youtube Channel – they have tons of quick

warmup videos like the one below.   If you sign up on their website you can search by length of the workout or type of workout to find what you're looking for. 
Sworkit Kids
Sworkit Pro was a great App, but Sworkit Kids is even better for Elementary PE Teachers.  You can create custom workouts with your own exercises and choose any length that you'd like.  They are all appropriate for elementary age students and the app has kids performing the exercises as well.  Just plug your iPad/iPhone into a projector or TV and have your kids follow along.

Note

: Be on the lookout for the Sworkit Web Player (currently in development) – this will enable you to play Sworkit workouts straight from a computer with using a Mobile Device
Just Dance Videos 
Just Dance is a super popular video game that most ofyour kids have played before.  Luckily, lots of players have uploaded their Just Dance Videos to Youtube so you don't even need a gaming system.  

Lets face it sometimes kids just want to dance – There are a billion just dance videos on Youtube.  The one below is just one example – hit play and let your kids follow along. 
I sometimes give my kids an option to choose between 2 warmup activities:

For example they can either do a Just Dance video or jog laps and jump hurdles.  That way everyone is happy and students are more engaged.

Note: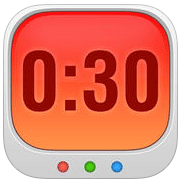 Interval Timer Pro
No TV or Screen?  Then this one is for you.  I use this App any time we are doing a tabata style or crossfit style warmup.  I use

station slips to

indicate a few exercises or activities for students to choose from at each station and then input what intervals I want to use – play some music from my iTunes and then the app rotates the kids around the room for a set number of rotations.  

See an example of the slips I use for stations below: 
For example: I usually do a 30 seconds on – 15 seconds rest/rotate – If you have 6 stations that means you have a 4.5 minute warmup activity (3 minutes of work, 1.5 minutes of rest/rotation)
This is a great way to use stations to give a quick review of content you've already taught or give your students practice for something you are planning to teach soon.  
Workout Posters
If you haven't taken advantage of the hundreds of free workout posters at

Darebee.com you really need to check them out.   You can also find posters homemade by some great Phys Ed teachers around on the internet… Like these super hero posters for example.
Workout posters are great – they give students a few options to choose from and are self paced.  Just set a time limit and see how many times your kids can get through the workout before the time limit is up.  I leave a few permanently up on my walls in the gym.
I also created some pretty cool Exercise Posters myself (see below), which you can check out here if your interested
I hope some of those activities are useful for you.
Got some ideas I didn't mention?  Leave them in the comments!
Have Fun and Teach On!