What's up Phys Ed Friends!
I am pumped to finally publish this Field Day Blog Post and Resource Pack!
I've been working on this one for a while and Field Day details have been a really common request that I get from teachers, so I really hope it's a helpful tool as you plan out your next Field Day!
Just like anything I create, this is what works really well for me – feel free to modify and adjust based on your personal situation.
Take what works and trash what doesn't
One of the big responsibilities of most Physical Education Teachers is planning a Field Day for their school.
I get tons of questions about what I do for Field Day at my school, what games and activities I use and the format for my day – so I decided to break it down for you in 10 easy steps in the video and blog post below.
Here's my 10 Steps to Plan an Awesome Field Day:
Hope you enjoyed that video!
There are lots of different ways to do it and tons of opinions on how it should be done, but I'll give you an overview of how I run mine below and I hope it sparks some ideas and helps you plan the Best Field Day Ever! 
1.) Choose a Date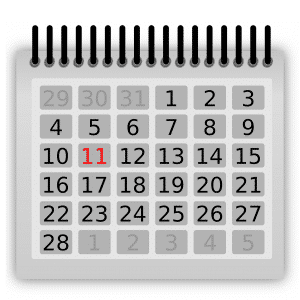 Step one is picking out a good date for your Field Day.
This will vary depending on your situation and weather where you are.
For me the perfect Field Day Date is the last day of school right before Spring Break, usually at the end of March.
My school used to hold Field Day at the end of school in June, the issue with that was that it would sometimes be over 100 degrees outside and the kids, parents and teachers were all totally exhausted and overheated by the time it was over.
We even had a parent volunteer pass out one year – no joke!
So one of the changes I requested after getting the full time job at my school was to move the date back to March and the weather has been incredible for all except one of those days (we had to do indoor Field Day once because of rain – more info on that later).
Another bonus of having Field Day earlier in the year is getting it out of the way before we have to deal with schedule interrupters like end of the year testing, end of the year events, graduations, finalizing report card grades and other similar end of the year school events.
Your perfect date will depend on your specific situation, but putting it on the calendar is the first thing you'll want to do in your Field Day Planning Process.
2.) Choose the Format for Your Field Day
There are lots of different ways to run Field Day, the three most common ones I've seen and heard about from others are below:
Track and Field Style Field Day:
This is the format where you have students from each class compete in different track and field style events to determine winners in each event.  Normally you would split up each event by grade level and by male/female.
Examples of events:

Long jump, 100 meter race, 400 meter relay, discus throw, hurdles (google "track and field events" for a ton of additional ideas)
Festival Field Day:
This format is more of a party or festival style of an event.  There might be a dunking booth setup, cake walk and other games or activities that you might see at a carnival or state fair.   You might have a concession stand with refreshments and a bounce house or obstacle course
Station Activities Field Day:
This is the format that I use.  You setup a bunch of station activities and games around the school and classes rotate through all of the different activities on a timed schedule throughout the day.
There are probably other types of Field Day Formats and you can even mix the ones above up and combine them if you want, but those are the 3 main categories I've seen.
I don't think there's a right or wrong answer for what Field Day format is "best", it really comes down to what's best for your school and what your admin, teachers and most importantly students would enjoy and benefit from the most.
I have always done the "Station Activities Format", because when I asked for feedback the consensus from my teachers and administration is to plan a day that is based around having fun with friends and using teamwork and good sportsmanship (which also aligns really well with my PE Program Goals)
3.) Plan the Activities
Now that you know what you're doing, it's time to plan your activities.
For me this means choosing 18 different stations that my students will rotate through during our Field Day.    Each year I plan out 16 game/activity stations and 2 "rest and refresh" stations (water break or an icee pop).
I create 18 stations (here's a few examples) because we have 16 homerooms in 3rd – 5th Grade, so that allows me to plan out our Field Day with 2 empty slots so that nobody has to start out at a "Rest and Refresh Station"
See the "starting positions" page of my Teacher Field Day Packet below to see the stations I used this year and how we organize the activities (there are 2 empty slots at the 2 resting stations since we didn't want anyone to start there for their first station):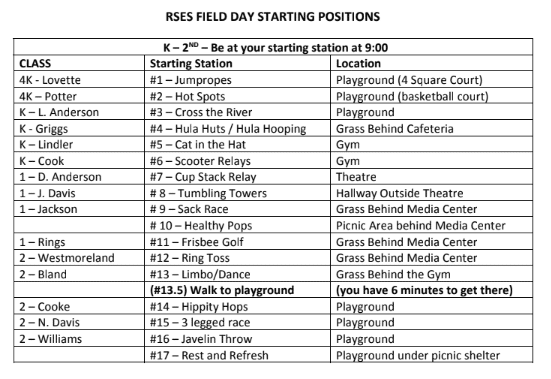 Each year, I switch out a few activities to keep it interesting for the kids and to try out a few new games.
This year we created a game off the "bottle flipping" trend and had a Cone Flip Relay (here's an Instagram Video Example) that was a pretty big hit.
Some of the games we play are just spin offs from lessons that we've already taught throughout the year in Physical Education class.  A few examples are (Hula Hut Relays, Cross the River and Spot Shot)
4.) Recruit Volunteers
No matter how you swing it, you're going to need some help.
I have pretty active parents at my school and I mainly use to run my stations on Field day (along with a few of the non-homeroom teachers at my school).
If you're struggling to get parent volunteers – You might be able to get community members, non-homeroom teachers, previous students who are now in high school, nearby church groups or even have your older students run the stations for your younger students – get creative and you can find some help.
I put out an email blast and create an ad that goes in the Newsletter and have parents sign up using a Field Day Volunteer Google Form that I created.
P.S. The more fun you make it and more organized you are, the more likely you'll have folks volunteer and also have them return the following year because they had so much fun
See an example of the ad below: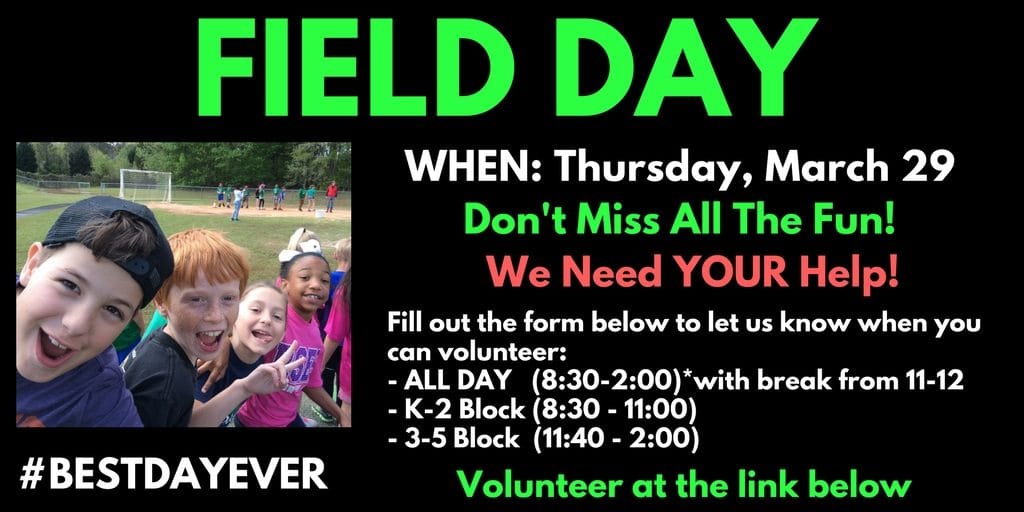 Here's a link to my Volunteer Form if you want to copy it
5.) Prep Your Teachers
The more detailed instructions you can give your Homeroom Teachers the better.
I create a "Teacher Packet" for them each year that has the following elements:
Field Day Directions (overview of the day and tips for success)
Field Day Map (make a map with each station numbered and rotation directions)
Starting Positions (where each class will begin their Field Day)
Time Out Slips (if kids need to "refocus" they fill out a reflection sheet for 10 minutes)
Competitive Scorecard (Option for classes that want to track team scores at each game)
I also create a video walkthrough of the teacher packet with an App Called Show Me – you can check out and example video below:
Links from the video: 
I always print out this packet for my teachers, email it to them AND send them the walkthrough video. 
Over communicate with your Homeroom Teachers and your Parent Volunteers to make sure you cut through the noise (let's be honest they are all super busy, just like us)
6.) Prep Your Students
I declare the 2 weeks leading up to Field Day our "Field Day Training" in PE Class.
We focus on going over Field Day Games, reviewing good sportsmanship and making sure kids know what to expect and are ready to have a blast. 
I start teaching the Field Day games to my Kindergarten – 2nd Grade students 2 weeks before Field Day.
I only have 50 minutes a week of instruction with my students, so I basically have 2 lessons to get them ready to play all the games and activities on Field Day.
For my 3rd – 5th Grade students, I plan 1 week of "Field Day Training", but I will sometimes play a few of the games as warmups in the weeks leading up to Field Day – especially if it's a new game that they haven't done before.
Check out a few clips from my "Field Day Training" in the video below: 
7.) Have a Rainy Day Plan
Nobody wants to think about a back up plan, but you can't control the weather.
For me personally, rescheduling Field Day is not an option – I've put in too much work, instruction time and scheduled tons of parent volunteers.
There is no way that I am going to do that all over again – so I always have a backup plan in case of bad weather.
Luckily, in the 11 years I've been teaching, we've only had to have indoor Field Day one time – and it honestly went pretty well.
Check out the video below for an overview of my Rainy Day Plan:
8.) Prep for Field Day (the Day Before)
Now you've hustled, put in the work and have to make the last few arrangements to make sure everything is ready to go.
The day before Field Day I always stay late at school and go through my checklist of each station, and make sure everything is ready to go.
A few things I do the day before:
Line each station's equipment up by the door so it will be ready to take outside and I go ahead and setup any inside stations
Assign all of my parent volunteers to their station positions and print out station descriptions to give each volunteer so they know how to run each station activity
Print out a few extra maps for my volunteers that might be new and need some help getting around the school
Order Pizza for lunch for my Related Arts team since they help me out with Field Day
Plug in and test our Portable Bluetooth Speaker (Ion Blockrocker) and get my music playlist ready to pump the jams outside during Field Day
Ice down all the Icee Pops in cooler and put in the freezer so they're ready to go
Fill up some extra buckets with ice from our Cafeteria Ice Machine to have some extra in case we use it all on Field Day
9.) Setup Field Day
It's FINALLY HERE!!!!!!
The morning of Field Day I am super amped – I get to school early and my co-teacher and I (plus any student teachers I have and maybe a few helpful students) load up all the PE Equipment in a truck and drive it down to our school recess playground to start setting up all the stations.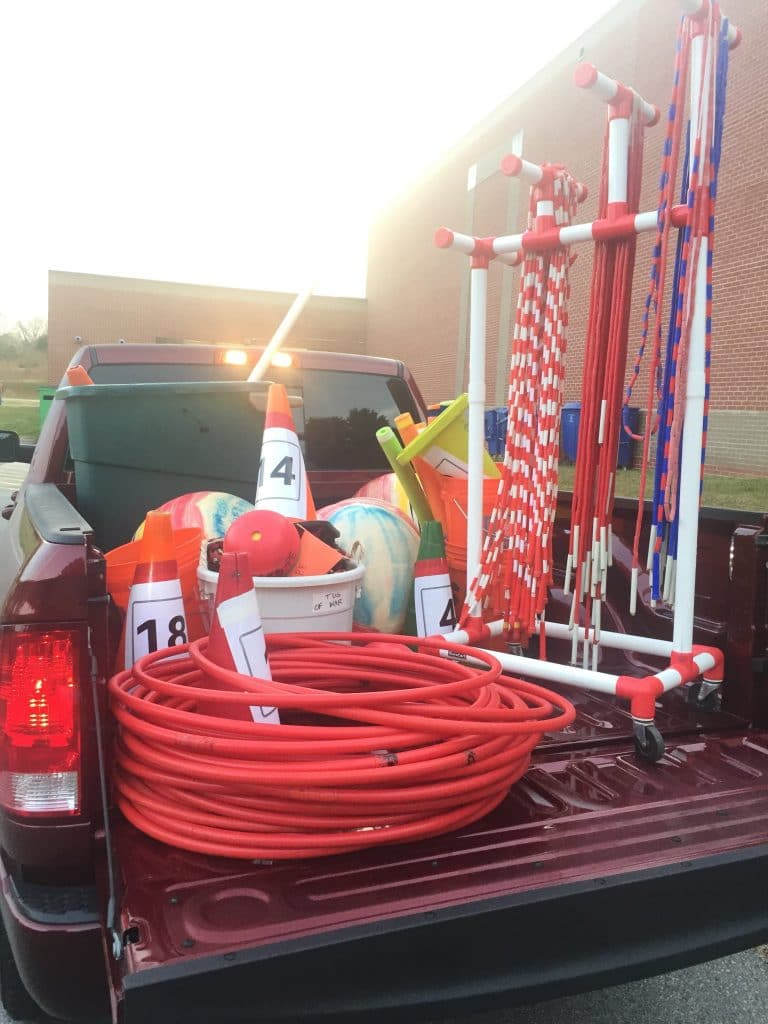 As we setup our stations we color code each station with 4 lines of Red, Yellow, Blue and Green with these dome cones and keep any stations with 4 teams in the same basic format to make it easy for transitions from game to game (especially for our younger students), check out a few examples below:
This color coding helps us save time since students only have about 6 minutes before we blow an air horn and they have to rotate to the next game.
By the time we finish setting up the stations my parent volunteers are starting to show up.   As they file in I check their names off the list, hand them their station descriptions and answer any questions.   Once we get most of them in the gym I do a quick volunteer orientation.
Field Day Volunteer Orientation:
Introductions and THANK YOU (introduce yourself, student teachers and give a big thanks for everyone being there)
Overview of the day (how things work, where everything is, tips and things to watch out for)
Overview of the schedule (how long at each station, breaks during the day)
Overview of games (format for relays, how to modify stations if needed, common things to watch out for)
Housekeeping (bathroom locations, general map overview, water bottle stations)
After all the stations are setup and the volunteers are ready to go there's only one thing left to do…
10.) HAVE AN AWESOME FIELD DAY
During Field Day my co-teacher and I are walking around and helping teachers, students and parents, taking pictures, and helping iron out any kinks that might appear throughout the day.
We radio each-other every 6 minutes on a set rotation schedule that we have and coordinate blowing an air horn for outside stations or a whistle for inside stations to keep everyone moving to the next game.
Our schedule is K-2nd in the morning from 9:00-11:00 and then we switch out a few stations for our older students before they show up for their field day block, which is 12:00 – 2:00.
After our Field Day is over, students and parents help to bring all the equipment back to the gym and we clean it up, organize it and store it back in our equipment closet.
At about 3:00 I finally sit down for the first time all day and try not to pass out 🙂 
I make a few notes about things that went well and things I want to change the following year and then send out a Thank You to all the staff at my school and my Parent Volunteers for all their help to make our day a success.
And that pretty much wraps it up!
If you want to save some time and you think my Field Day process would work for you school, I've created a really helpful resource called the "Field Day Resource Pack" which you can check out below.  I hope it saves you a ton of time and gives you some fresh ideas to plan your next AMAZING Field Day.   If your a member of the PE Specialist Membership program you can download the resource pack in the Member Forums area after you login here (details on The PE Specialist Membership Program here)
Field Day Resource Pack Preview
The Field Day Resource Pack Includes:
The Field Day Resource Guide E-Book

This E-book will walk you through the entire planning process

43 Field Day Games E-Book

This book is full of tried and tested Field Day games that are a blast and your students will love

Examples and Templates for:

Field Day Directions for Homeroom Teachers

Directions, scorecards, time out slips, starting positions

Field Day Prep

Volunteer Assignments, Checklist, Rotation Schedule, Things to think about

Lesson Plan for Field Day Training
Rainy Day Field Day Plans
Plus More Bonus Videos, Links and Resources
You can purchase the Field Day Resource Pack by clicking the button below:
P.S. If you're not on our email list – sign up to receive our free weekly emails with PE resources, freebies and tips for becoming a better teacher (Plus a Free PE Games E-book).