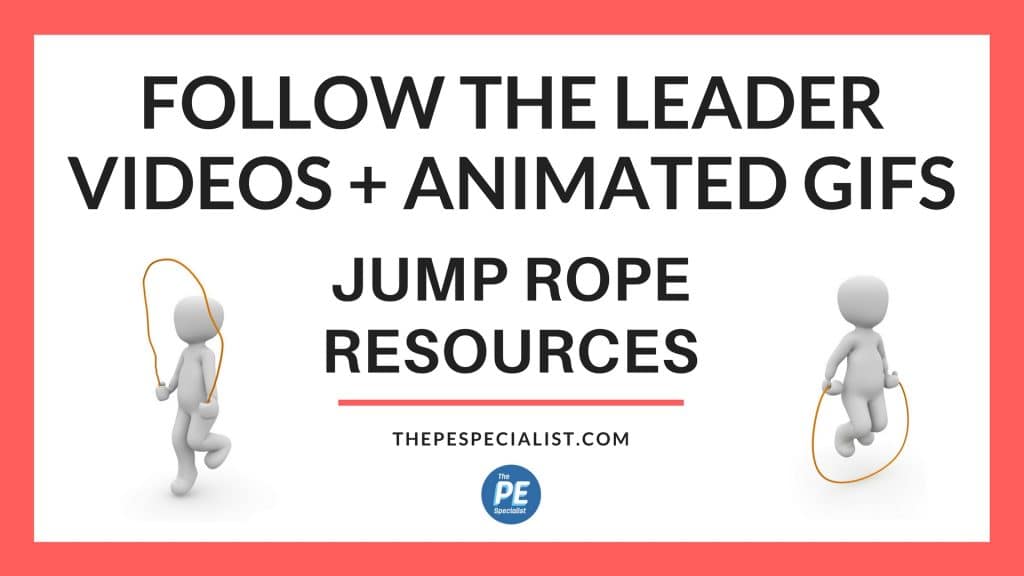 This week I'm excited to launch an awesome new resource for Teaching Jump Rope!
I've already blogged in detail about How I Organize my Jump Rope Unit, but as a quick overview of how I split up the Jump Rope Tricks, you can see the Trick Chart Below: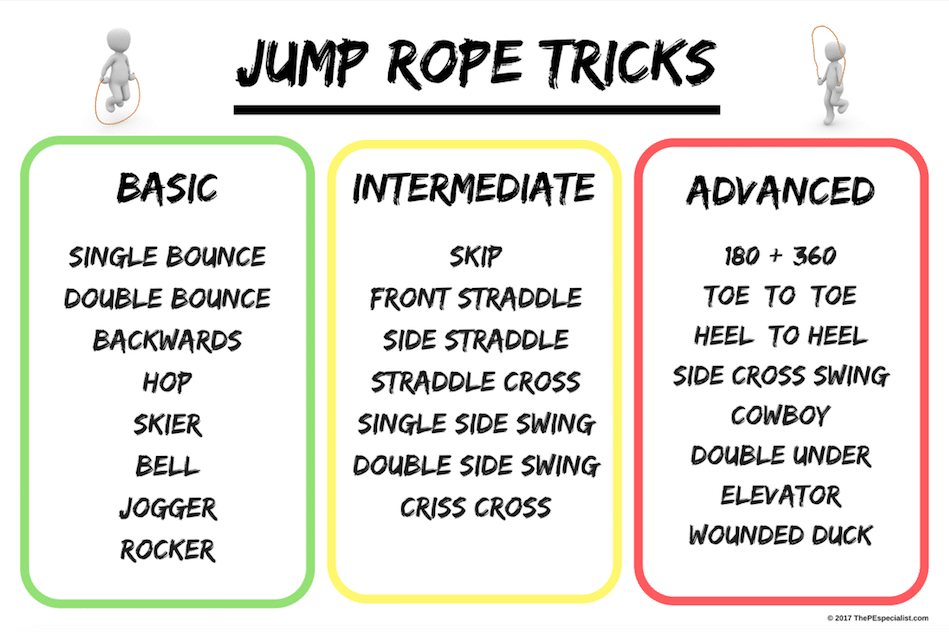 My basic framework for teaching tricks is that I try to focus on Basic Tricks in K-1st, Intermediate Tricks in 2nd – 3rd and Advanced Tricks in 4th-5th.
This year, I still ran my Jump Rope Unit using the same format, but this year I upgraded it a bit with Animated GIFs.
I've been using my Follow the Leader Jump Rope videos for the past few years and they are great, but this year I also wanted to experiment with Animated GIF's as well.
So I used all of my Follow the Leader Trick Videos to create some animated GIF's for each jump rope trick (see below).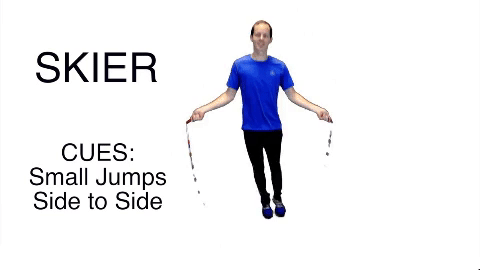 I then created a Powerpoint Presentation with one slide for each trick and then put them up on the screen as I was teaching, so my students could see the trick looping over and over as we were learning each new trick.
It was so great not having to demonstrate the tricks over and over every time a student had a question and it freed me up to help more students that were struggling.
Then after we had gone over each trick on the Trick Chart, I played a 5 minute video loop that I had created with 4 tricks per slide, so that students could quickly review any trick they wanted if they had a question, by watching the screen and waiting on their trick to pop up (see below for an example).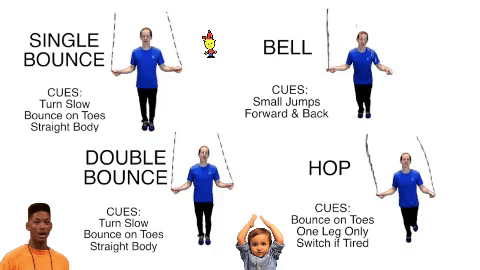 *Note: I didn't include the awesome stickers on the GIF that I used for school… those are just to hopefully make you laugh… although now that I'm looking at it, I think my kids would probably like more with the stickers.
I originally created these videos for the folks in my Membership Program, but I've also wanted to make them available to others because I know how helpful they've been for me and how valuable they would be to other teachers (especially if you can't physically do all the tricks).
I honestly had been trying to figure out a good system for doing this on my site, because the video files are huge and I don't have a good way to deliver them.  Recently though, Teachers Pay Teachers came out with a streaming video feature, so I decided to post them on my Teachers Pay Teachers Page since the files is pretty large due to the video.
So this week I've launched them on my Teachers Pay Teachers Page for any folks that aren't ready to jump into the Membership Program you can purchase them on TPT as a value pack or also each resource separately if you don't want them all.
Check out the video below for an overview of how I use this resource:
So to review are 3 main resources in this pack:
Powerpoint Files of Animated GIFs for each Jump Rope Trick

There is a slide with each trick so you can progress as you teach students each trick and have them displayed on the screen for students to review while learning the trick

There is also a "summary slide" section at the end with all the tricks on just a few slides that you can use as an easy way to review multiple tricks if you'd like.

There is a total of 3 Powerpoint Files for each trick section (Basic, Intermediate, Advanced)
Animated GIF Looping Video (loops the tricks for 5 minutes)

After teaching the tricks to students, I use this the following few weeks as a review tool.  I simply let it play on my TV (

see an overview of my TV setup here

) and allow students to have 5 minutes to work on the tricks of their choice – it's really nice because it will loop through all the tricks so students can just go up and wait on the trick they are working on to pop up.   

Note

: You're probably gonna want to mute it and play your own music instead of listening to the same repetitive song over and over again 🙂

There is a total of 4 GIF Video Loop Files (Basic, Intermediate, Advanced, All Tricks)
Warm Up Video going through all of the tricks

This video will take students through a 5 minute warm up where they try to follow along to each trick for 30 seconds.  I also give audio commentary throughout the video which your students might find helpful if they are learning tricks for the first time.  

This is more structured and focused than the Animated GIF Loop Video since it only displays one trick at a time.

There are 3 Follow the Leader Warmups (Basic, Intermediate, Advanced)
A few ways you could use this resource:
Follow the Leader Videos
Reviewing Previous Content:  If you've already taught the tricks in previous years, or previous lessons the Follow the Leader Videos are a great way to review.  You play one of the Follow the Leader Jumprope videos to review the Basic or Intermediate Tricks that students have already learned from previous years before learning the next section of tricks on the Jump Rope Trick Chart.
Challenge Warmup: Play the video as a warmup activity and challenge students to keep up with all the tricks for the entire 5 minutes
Station Activity: Sometimes I just put the video on loop and have students follow along as a station activity
Animated GIF Powerpoint Presentation
Use it as a teaching tool to create a visual for students as you progress through each trick
Animated GIF Loop Video
I normally played this video during our 5 minute warmup the week after we learned all of the tricks.  That way students have time to review any tricks they want before we do our Endurance Club Challenge.
I played it on loop with my 4th and 5th grade students as we completed our "Jump Rope Tricks Checklist Assignment" which is included in my Jump Rope Resource Pack (more info on that here).

The basic idea is students partner up and take turns trying to get 5 jumps in a row for each trick on the trick wall, if they are successful their partner initials the box for that trick for them.  (See the example below)
The Jump Rope Follow the Leader Video + GIF Pack
If you want to purchase this resource you can buy it on my Teachers Pay Teachers Page Here, or if your a member simply Log In to the membership area and download it in the Unit and Lesson Plan Resources Area.
How this resource came to be…
In case you're interested, this is my whole journey of learning to "Flip PE" and use video instruction to increase my effectiveness in the classroom.
One of the most valuable things I've done in my teaching is film myself giving task presentations or directions to kids.   Sure, I've always known it was valuable to reflect on your teaching by watching yourself on video, but until creating the Follow the Leader series, I hadn't tapped into the full power of teaching my kids through video.
When I started my first teaching job, I began to film some games and task presentations in my classes to put up on PE Universe or share with other teachers.   It was nice to help others out – and also beneficial for me to watch myself, reflect and observe things about myself that I wanted to improve.
Then when I started my blog in 2014, I just replicated the same process with my Youtube Channel to share games and activities that I was teaching my students.
Then one day – an all-star PE Teachers (Noel Strand) sent me a message that he had put one of my basketball videos up on a projector and his students had followed along, he said it went really well.
This really got my brain going – Since getting a TV setup in my Gym, I had used plenty of Follow-The-Leader type videos for fitness warmups for my students, but had never actually created one myself.
Since I do these "follow the leader" style warm ups with many of my units of instruction – it just made sense for me to create a resource around it for myself and to share with others.   Plus, since I'm a little OCD about my curriculum, I liked the idea of creating the videos myself so I could design them perfectly for the curriculum and units that I was planning, so I decided to give it a go.
Testing the Idea
So I put it to the test – One day I filmed myself giving a follow the leader style warmup – the next day, I put it on the screen and let the students follow along.  IT WAS AWESOME!
While the kids were getting instruction from me on the screen, I could give feedback, assess skills, create teams for the next game or setup equipment for another activity.  It was almost like I'd doubled myself as the teacher.
Soon after that I was going to be out of town and needed a sub, I filmed myself explaining and demonstrating the curl-up test.  Copied the video to a USB which I can play on my TV through the DVD player (I do this so I don't have to rely on Wifi or internet – more details on that setup here).
I then left the sub instructions on how to play the video and record the score… I figured it was a gamble, but worth a shot – but when I got back the next week all my scores were finished up nice and neat and the sub even left a note that the kids did a great job and the video was very helpful – Teacher Win!
Creating the Follow the Leader Series
After the success of the first few experiments, I decided to make some videos for my membership.  I wanted them to look really clean and really liked the style of the Fitness Blender Workout Videos.   So I bought a green screen setup, planned out the warmups for a few units and then went to school on a holiday and shot videos all day.  
I did a bunch of Googling and Tutorial Watching and figured out how to use a program called Final Cut Pro X to get the look that I wanted for the videos.
About 1,000 hours later – kaboom, I had a bunch of really cool looking videos to use with my students.
I think they turned out pretty decent, my kids really enjoyed them and like I said before, they free me up to give feedback, assess, or setup for another activity. 
I then used the videos to create the Animated GIFs using this website: Giphy.com
After I had the GIFs and created the slideshows with them, I screen captured an automated loop and created the Animated GIF Looping Videos because I prefer having a video file over a power point (it's just simpler for me to hit play and set it to loop on my TV instead of needing to hook up a computer to the TV)
Last Few Thoughts
To be very clear – I'm not trying to say that video will ever be a substitute for face to face instruction, but I do think it's a really powerful tool that you should experiment with through your teaching – especially if you have a projector or TV in your teaching space.
If you don't want to purchase my resources, that's totally fine – but I would encourage you to create something similar for yourself or go find other similar resources online that are a better fit.
Just setup a camera on a tripod, film yourself teaching and then show it to your next class to see if they can follow along.  It's a great way to get one on one with students, while still feeling like you're giving them quality instruction.
There are a ton of great resources on Youtube for follow the leader videos, just search around for what you're looking for.  I listed a few below for you to check out in case you haven't:
Hope that sparks a few ideas for you – have an awesome day!
Have Fun and Teach On!