What's Up?
We're glad your here!
First of all, if you're not already getting our free email updates – you can subscribe to the free newsletter HERE and get regular freebies and PhysEd Updates + a FREE PE Games E-BOOK! (we recommend using a personal address like Gmail – sadly the school district email robots sometimes block our emails because of all the download links we send out… silly robots…)
Secondly – Stay connected on your favorite Social Media, we're always sharing awesome ideas and we'd love for you connect on whatever platform you use most (links below)
FACEBOOK |  INSTAGRAM |  PINTEREST | TWITTER | YOUTUBE    
Third – The most helpful free resource we've created over the years on this site is the massive amount of blog articles which are organized by category below – We'd encourage you to check out some of the blog posts to get some good ideas and inspiration.  
Fourth – After checking out the free resources below, you might want to join our PE Specialist Membership Community where we're working hard to give P.E. teachers all the support they need to be successful.  All members have access to everything we've ever created… it's pretty AWESOME!
If you have an idea or a resource request hit us up on the contact page.
Have Fun and Teach On
Resources
Classroom Management Strategies and Tools
Lesson Ideas and Unit Overviews
Teaching Tips
Technology Tips
Games and Activities
Music and Dance
PE Conference Notes
PhysEd Q & A Show + FAQ Page
Other Articles: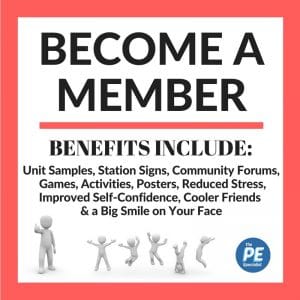 Community Membership
If you've checked out all my blog posts and you like what you see and are interested in diving a little deeper, being connected to an awesome PhysEd community and getting access to a ton of amazing resources – check out my Membership Community, it's pretty sweet:
Resources That I Recommend:
Looking for some helpful PE Resources?
If you're interested in seeing our recommended books, PE Music, DVDs, Tech Gear, Equipment and more, check out our Phys-Amazon page by clicking the picture.    Let us know if you think we should add a product and we'll check it out.