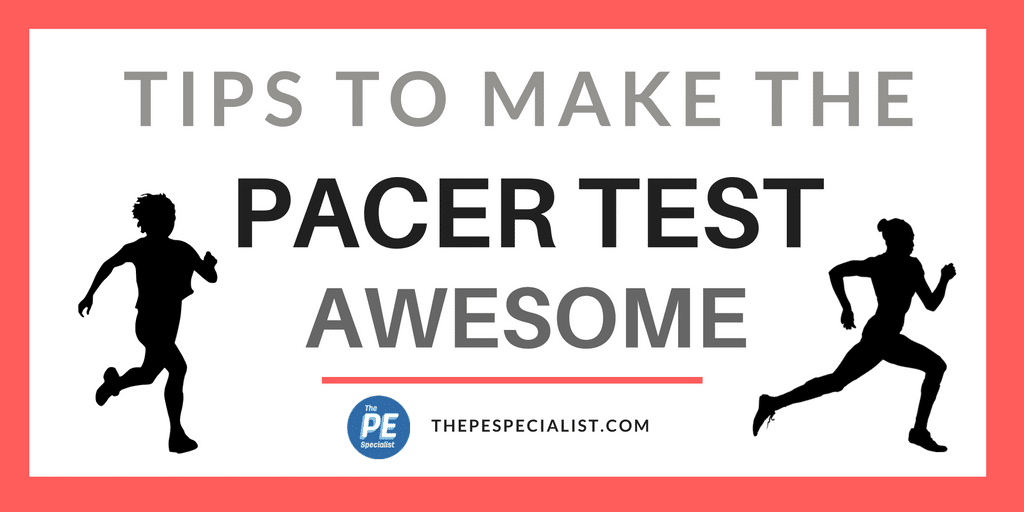 … If I had a dollar for every time I've heard the Pacer Test intro…
Today I wanted to talk a little bit about my favorite section of Fitnessgram – The Pacer Test!  
Why is it my favorite?
Well because I love seeing kids push themselves to achieve their best and it's also one of the easiest tests to administer, understand and keep score for.   There isn't usually much to argue about, you either make it to the line before the beep, or you don't.  Also, I think out of all the fitness tests it's probably my students favorite one, so that makes it more fun for me too.  
How do I set it up?   
We have a 20 meter court from endline to endline, so I partner students up and have them count for a partner.  Although to be honest, I am considering scratching this system and just having kids self-assess during the test to save on time – I've done it a few times and it's pretty manageable if you have the space, know your students and have taught them the procedure for the Pacer Test in previous years.
When the test begins, I run a few laps with the kids to help them pace (and to set a good example) and then stop when kids start dropping out to write down scores as they finish, since I know all the kids names, it's pretty easy for me to write them down as students finish the test, but if I miss a few I just ask them or their counter what their score was.  
What's the Focus?
In K-1st Grade I do a modified Pacer (See Below).  I just want them to get familiar with the test and how it works.
In 2nd – 3rd Grade I just want kids to understand what the test is measuring (Cardio Endurance) and the purpose of it – to see where you are currently and set goals to be able to track growth over time.
In 4th and 5th Grade I want kids to be able to understand goal setting a little more and be able to set realistic and specific goals with a game plan that makes sense to achieve their goal (what kinds of activities will help you improve your score?).  I also talk to my 4th – 5th kids about the strategy of using your first mistake as an opportunity to rest and encourage them to make sure they don't quit with no mistakes.  
It's always helpful to me when I see others teach – so I included a video below of my Pacer Test intro if you're interested
What about after the test?
After the test is over I give out awards to the best scores in the class
I know this is a little controversial and might not be considered best practice by a lot of people that I respect.  I am always open to changing my mind, but I currently I have to disagree and I think that we should take the opportunity to award kids for their awesome achievements whenever possible.   Also, if you watch the video above, I think you'll find that it's pretty clear that the emphasis I place on the lesson is on personal improvement – which is important, but in my opinion that doesn't mean that we shouldn't award kids for doing something awesome (See my stance on whether or not we should have winners and losers here).   
Some of you are probably saying, "Why don't you give a 'Most Improved' award"
Sure I'd love to give out awards for improvement as well, but then you have to deal with kids bombing the pre-test to get an improvement award on the post-test and I just don't have time to worry about that.  So I give out fist bumps and high fives to all my kids instead and when they finish I always ask – "Did you beat your last record?"  
Part of my focus is encouraging students for a strong effort, not matter what their score. 
In the words of Talor Mali:
"I can make a C+ feel like a Congressional Medal of Honor … 
and an A-­ feel like a slap in the face"
After the awards ceremony, I ask the kids what are different things they can do that would help improve their Pacer Score.  I try to lead them to bring up some of the points below:
Better Sleep
Drink More Water
Find a cardio activity you love and do it a lot
Put more effort into the test
Pace yourself at the beginning and don't waste your energy
What about K – 1st Grade?
For Kindergarten and First Grade I do a modified Pacer with a shorter distance and only allow them to go to 25-30 laps.  This lets them learn the testing procedure and honestly, they really love it and are always laughing and giggling when the test begins and then asking if we can do it again when it's over.   You can see a clip explaining this below:
Fun Ways to Practice the Pacer
Simple Warmup: Just do 25 – 30 laps as a warmup before class begins, allow students who can't make 25 to take a break and join back in when their ready to get a feel for the pace of the test.
Partner Pacer: Let kids partner up and take turns during the test.  One student must be running at all times, but may run 2 or more laps in a row to give their partner a break.  I got this activity idea from Greg Bert in a PE forum and it worked well.
Triple Pacer:  If your short on space you can put kids in groups of three and have them start with 2 on the starting line and 1 on the opposite line.  The first person from the start line runs down and tags the person across and they go back and forth tagging each other.  Doug Hallberg showed me this activity at The National PE Institute, I haven't used it because I have plenty of space to do the Partner Pacer even with Double Classes, but I think it's a great idea for large class sizes or smaller spaces.
Another cool idea that I haven't used personally, but I thought was worth sharing is Katie Mulloy's "Pacer Wall", which she shared in the PE Central Facebook Group.  This idea is similar to my "Jump Rope Endurance Club" – you put up some paper on the wall and allow students write their name in the section they made it to – super motivating for students.
And that's all I got friends – hope something in there was helpful.  
FYI: I am thinking of totally flipping the way I do fitness testing and working through the logistics of allowing kids to totally self assess and trying to salvage some of the time that Fitnessgram takes from my yearly curriculum.   If it's a success, I will definitely share it here on the blog.  
NOTE: Please don't use fitness scores to determine a grade in PE.  This is not best practice, if you disagree with this, check out some of the links below and think through what the implications are for your kids.
More Links & Resources
If you're interested in learning more about this subject, below are some links to content that I've found helpful when thinking about fitness testing:
Have Fun and Teach On!