This is one PE Game that I play every year in my Physical Education classes when kids come back to school from summer break.  I originally learned about Hula Huts from one of my "pre-twitter Phys Ed mentors" – J.D. Hughes (@PE2theMax) at a workshop that he was leading in my area. Building hula huts is a great team-building activity to help your kids work on cooperation and communication at the beginning of the year.   
The way that I play most of my games is by breaking them up into levels to "gamify" the lesson and make it more fun for kids.  Students get excited to see what level they will be able to make it to before the time runs out.  This is also a great way to play a game with different age and skill groups and make it age appropriate for everyone.  
For example, I played this game with all of my PE classes this year 1st – 5th grades.  However, only a few 5th grade classes made it all the way to Level 5.  Most of my first grade classes only made it to level 2-3.   That's OK though, because students get excited about it the next year when they get to play the same game and hopefully get to challenge themselves by trying to complete a new level that they might not have seen before. 
Most PE lessons can be broken up this way and I've found it's a simple way to organize a lesson to increase student engagement and make it appropriate for different age levels. 
You can check out a full video of my lesson with a 4th grade class below.  They didn't make it to level 5, but I included an example.  
If you don't have time to watch the video, the way I break down the levels for my kids is below.  You can modify it however you'd like by requiring more students to go through, changing the way kids go through or adding any silly variation that you want – have fun!
Level 1 – build a hula hut on the middle line and sit down with your team
Level 2 – build a hula hut, send 2 people through and sit down
Level 3 – build a hula hut, send 2 people through belly facing up and sing ring around the rosie, then sit down
Level 4 – blindfold one person, build a hut, verbally direct them through the hut
Level 5 – partner all teams together (combine 2 teams into 1) and build a double decker hula hut … I've even heard rumors of 4 and 5 stack huts!
Level 6 – (idea from a Twitter friend) build huts on boards and transport to another location (or you could use a mat for transport like this example)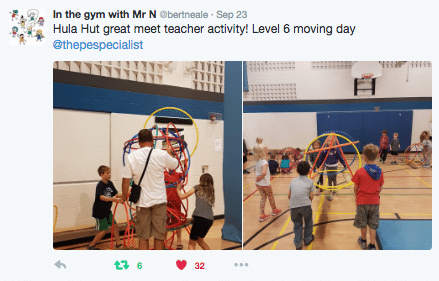 Also – another level idea from Twitter below

I've also done the transport level without the mat or board and just have students move it with their hands (see the twitter post below)
Working on cooperation & #teamwork with one of my favorite teambuilder activities – Hula Hut Relays – @pe2themax introduced them to me ages ago ??
.
Teachable moments endless variations and great conversations galore with this activity
.
#physed #pegeeks #pe #peteacher #elempe pic.twitter.com/2aHcfzeVVy

— Ben Landers (@thepespecialist) September 4, 2018

If you don't have J.D.'s book No Standing Around In My Gym – I can't recommend it highly enough.  I own all of his books and have links on my Amazon Page if you're interested in checking them out.  
After you teach your kids how to build hula huts – you should play Hula Hut Throwdown (another game by J.D. Hughes) – it's one of my kids all time favorite games to play.   You can see a detailed explanation of the game in a video HERE – after you watch it you should probably just go ahead and buy the Game or Book for your library, it's well worth it.
Side Note: We also use Hula Hut Relays as a station for our Field Day every year – kids love it, and parent/teachers love watching.
Thanks for stopping by and a big thanks to J.D. for introducing me to Hula Huts, if you have a favorite cooperative game that your students love – share it in the comments.
Have Fun and Teach On!