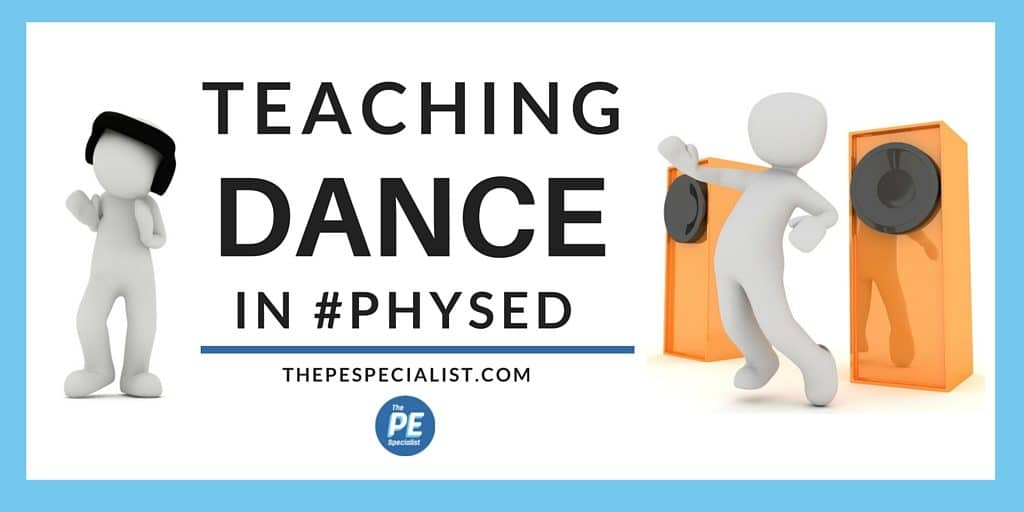 What's Up Phys Ed Friends!
Today I wanted to tell you about a really great dance resource that I've been using this year.  It's music from an artist that I originally heard about while attending an amazing PE Conference this summer called The National PE Institute.  
I had a blast at the conference, but one of the highlights was an event that the Physedagogy Team put on called a Demo Slam.  The concept is pretty simple but really powerful.  It's pretty much a Dance-Off, but instead of sharing dance moves, you share Physical Education Ideas that other teachers might find helpful.
It works like this… You get a bunch of people together and circle up, then put a 2 minute timer up on the screen and then people with ideas to share have 2 minutes to share their ideas with the group before getting "slammed" off the stage, as the next person in line begins sharing their idea.  It's a great way to get a bunch of sharing done quickly and it motivates people to share the basics and keeps anyone from rambling on to long. 
One of my favorite takeaways from the Demo Slam was a song called "Jump" that someone presented by an artist named "Mr. Chris". He's got some incredible Hip Hop dance albums out there aimed at teaching basics of dance and hip hop to younger students.  
You can see an example of my teaching the Jump Song to my students below: 
I'm not against square dancing or anything, but I don't teach it at my school, because it's most likely not very relevant to students as something they will use in the future.   I'm also all for doing a creative dance unit, I don't have enough time in the  year to spend an entire unit teaching dance, since I only see my kids once a week – I combine my Jump Rope and Dance together into one unit.   We learn a group line dance as a warmup and then learn jumprope skills for the rest of the lesson. 
I like to teach dances that kids will actually be able to use one day when they are at a party, wedding reception or anywhere with a DJ and a dance floor.  
Some of my go to dances like the Cupid Shuffle, Sid Shuffle, Cha Cha Slide and Wobble (Instrumental) are starting to get old and I've already taught them to most of my kids, so I am always looking for new stuff – this year Silento's Whip Nae Nae Dance was a pretty big hit with my kids (Dance Steps Cheat Sheet Here).
Note: You can also purchase my Line Dances in PE Dance Steps E-Book Here, if you want to get steps for my favorite dances that I teach students as warmups and intro activities.
This year I teach a 4K class once a week on a stage in the theatre at our school, since the gym is double booked with another PE Class.  I was looking for some activities with low setup and Mr. Chris' Hip Hop For Tots and Preschool 1 Albums were perfect for my situation.
After downloading 3 of his albums, I declared Wednesdays "Hip Hop Wednesday" and have been dancing up a storm with my 4K kids every Wednesday this year on the stage in our school's theatre.   
The songs are all super simple and most of them have youtube videos with examples of the dance steps.
The three albums I have are below
[one_third]Hip Hop For Tots

 

(Amazon) (iTunes)[/one_third][one_third]

Preschool 1

Hip Hop Moves

 (Amazon) (iTunes)[/one_third]
[one_third_last]

Zonda Kids Dance: Hip Hop Vol 1

 (Amazon) (iTunes)[/one_third_last]
I definitely recommend checking out Mr. Chris when planning your next Dance Unit or even for a quick warmup with your kids.  He's got tons of fresh hip hop jams, great for Elementary students.
He recently even came out the the Burpee Song – teaching kids how to do burpees – perfect for Phys Ed.
I recommend getting all 3 of the above albums, but if you want to start with a few songs check out the ones below, they are some of my favorites that I've taught my younger students this year:
Mr. Chris has a youtube channel with examples of most of his songs as well, you can see an example of a few dances in the video below:
If you want some more tutorial examples check out the playlist below:
If you want to teach the "Jump Song" to your kids, you can download the Lesson Plan Cheat Sheet Below:
How do you teach dance?  Got some ideas to share – leave them in the comments below.
Have Fun and Teach On!