Are you thinking about doing a Jump Rope For Heart or Hoops For Heart Event and looking for some activities and ideas?
In this post I'm going to share what I've learned from helping coordinate a Jump Rope For Heart event at my school over the past 9 years.   I hope that it's helpful in giving you some ideas to make your event fun and help it run smoothly.
We use our Jump Rope For Heart Event as the culmination of our jump rope unit, which is usually 3-4 weeks long.   I hand out the packets at the beginning of the unit and give students 3-4 weeks to raise money before the event.
Why Participate?
I participate in this event because it provides students with a chance to give back to a good cause and also integrates perfectly into my curriculum by allowing students to learn a valuable skill that can help them life an active, healthy and FUN life.
There are 2 main ways to run your event
You can either have a celebration during PE Class with each of your classes and maintain a normal schedule or you can do a one day long event where all students come to the gym for a celebration throughout the day.  Check out the video below for a walk through of my setup.
Like I explain in the video above, we do a day long celebration at my school.  It's a little bit more work, but I think it's more fun for the students – and it allows me to knock it all out in one day.   If you don't have an area to meet in like a gym or multipurpose space or your school isn't as flexible with scheduling – then try out the week long celebration and just set up fun jumping stations for your students to rotate through during Jump Rope For Heart week.
For some great ideas for jumping stations check out the video below by Mike Graham
If you decide to do a one day celebration I'll give you some ideas below.
The way it works at my school is I coordinate with all my other related area teachers and they all come to the gym with their classes during related area time.   We have students sit in a group with 1-2 partners and a choice of 3 different sized jump ropes.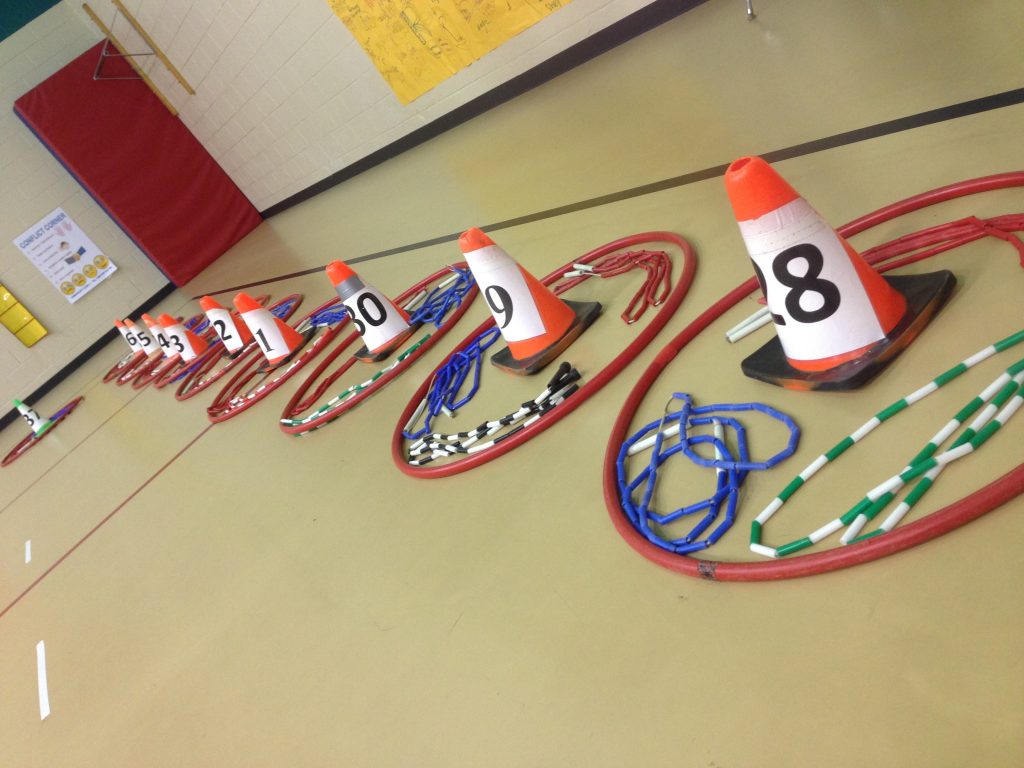 Happenings during our Jump Rope For Heart Celebration (50 minutes long for each grade level)
Do a roll call for each class after everyone is present
Quick intro with safety reminders and the purpose of the event (raising money to fight heart disease and also keeping your own heart healthy with exercise)
Have 1st jumper come out, find open space and start jumping 3-4 minutes
Rotate through different jumpers every couple of minutes
Give out some raffle prizes (jumpropes, keychains, stickers, temporary tattoos ect.)
Allow students to do partner jumps
Long Rope Activities
Hula Hooping
Introduce our school mascot and ChikFilA Cow
Bring all students to the middle for a group dance like the Whip Nae Nae or Jump Dance
Close with a reminder about how students are making a difference in their own bodies through exercise and also making a difference in the lives of others through raising money to fight heart disease.
Note: I always try to give kids as much choice as possible in my classes and JRFH is no exception.  Any activity is optional.  For example, when we do partner jumps, hula hoops or long ropes – if there is a student who doesn't want to do those activities, they can simply continue to practice doing a single jump if they want, I just want them to have fun and create a memorable experience while raising money for a great cause.
Who Counts the Money?
The morning of the JRFH event I have a few parent volunteers counting up all the donations so that I can announce the numbers to each grade level during their celebration.
Below are a few incentive ideas to announce at the beginning of your unit:
Top grade level gets their name on the JRFH Flag for that year
Top fundraising class gets an extra PE Class
Top Participating class gets free ChikFila Nuggets (ask them to sponsor your event)
Top 4 Fundraisers get to Pie the PE teachers and Administrators in the face

we video this and show it on the morning announcements

Top 25 fundraisers can have their JRFH T-Shirt autographed by their PE Teachers
Hope some of those ideas are helpful!  Thanks for checking out the blog.
Save Yourself Some Time
Over the years, I've created a system of emails/forms and announcements to save myself some time around this event. If you want to see all of my Emails, Announcements and Volunteer Forms you can check out the JRFH Resource Guide that I've created below:
 The Jump Rope For Heart Website
Another great resource is the American Heart Jump Rope and Hoops for Heart site.  They have tips, activities and lots of great ideas.  Check it out below:
Hope you can use a few of those ideas and as always…
Have Fun and Teach On!
P.S. If you're looking for some ideas on teaching Kindergarten students how to jump rope you should check out my post below