Projector Struggles:
Like many of you, I have an iPad through my school and the school has been encouraging us to integrate technology into our lessons through professional development and training. Unfortunately it was pretty tough for me because all I had was a projector that is on a cart and I've always found that it's a pretty big hassle to roll it out and then roll it back into my closet during a lesson so that it doesn't get hit by a ball, jumprope or run into by a student – not to mention having kids trip over the cord when we start moving around.
I've considered mounting it on the wall, but even then I would have to have it hooked up to a computer and use an app like Airserver to mirror my iPad or have a wired connector on the wall for my iPad.  Plus, the projector takes a while to warm up before turn on and connecting to the computer.
Deciding on a Flatscreen:
I decided that the ideal situation for me would be having the ability to wirelessly stream content to be viewable for my students with minimal setup and breakdown – this way I could stop in the middle of the lesson and we could look at a quick student example, watch a demo video or go through a quick slide presentation without wasting any time with setup.
The solution that I thought would work best is by mounting a flatscreen TV on our gym wall.  Another benefit is a TV is easier to see with the lights on than most projectors.
So I put together a proposal and luckily my administration was very supportive of my idea and helped me out by funding the project after I did some research and gave them a detailed pricing proposal.   They did shoot down my first proposal which included an expensive TV Shield, so I priced out the cost of building one myself and they approved the project.
I created a plan to build a wood and plexiglass frame around the TV that would protect it from getting hit by a stray ball and it's been working pretty well. (I share the gym with an after school program, so I wanted some good protection since I can't be in there supervising kids after school).  So far I am really enjoying the setup and it has definitely enhanced my lessons and saved me time with setup and take down.
See a run through of my current setup below:
Closed Cabinet vs. Plexiglass
Before looking into TV protectors you will probably want to decide if you want a closed cabinet or a plexiglass cabinet.  The downside of plexiglass is you might have a glare (sometimes I turn off half the gym lights to help with this).  The downside of a closed wooden or metal cabinet is you will have to open and close it each time you want to use it.  Also, make sure you know the dimensions of your TV so you can be sure to get a box that fits around it.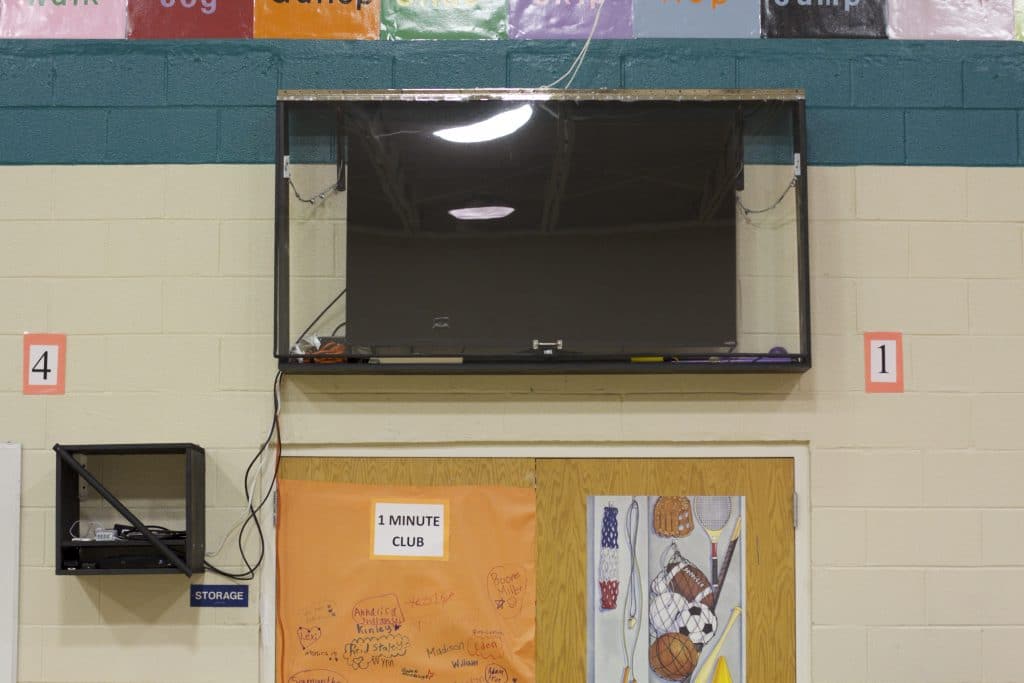 *Below you will find affiliate links to all the products mentioned in the video and any other tech tools that I use in my program.  You can support this website by using any of the affiliate links below – same price for you, but Amazon gives me a small referral fee.
Options for the Box that Protects the TV:
Build your own
Get someone to build it for you

Another school in my district had the High School Shop class build her a TV Cabinet for her gym as a class project – Great idea

Order a custom TV Enclosure (for example: 60″ TV Shield)
I ended up building my own protection box since the TV Enclosure cost more than the actual TV and I wanted to protect the TV from any impact.  A screen protector will protect your screen, but the TV itself will still receive an impact from a stray ball.
If you are interested in building your own, you can check out my notes on how I did it in the very unofficial guide below:
DVD Player, iPad Holder Box
Next, you will probably want a Wall Mounted Cabinet or Shelf that will be close to the TV, but under it so it is accessible without using a ladder.  This is where you can put your laptop or iPad when they are plugged into the TV.  I also use it as a charging station for my iPod and iPad and have my DVD player in it.
Make your own – I just used some old wooden shelves in my closet, made a box big enough for my laptop to fit in and then put it on the wall with some L brackets.  I also put a PVC pipe across it to protect my laptop and iPad from any Basketballs or soccerballs.
Order one (for example: This would probably work, or this one if you want to get fancy – it's what I use for my stereo and I've been pretty happy with it, just make sure it's the size you want)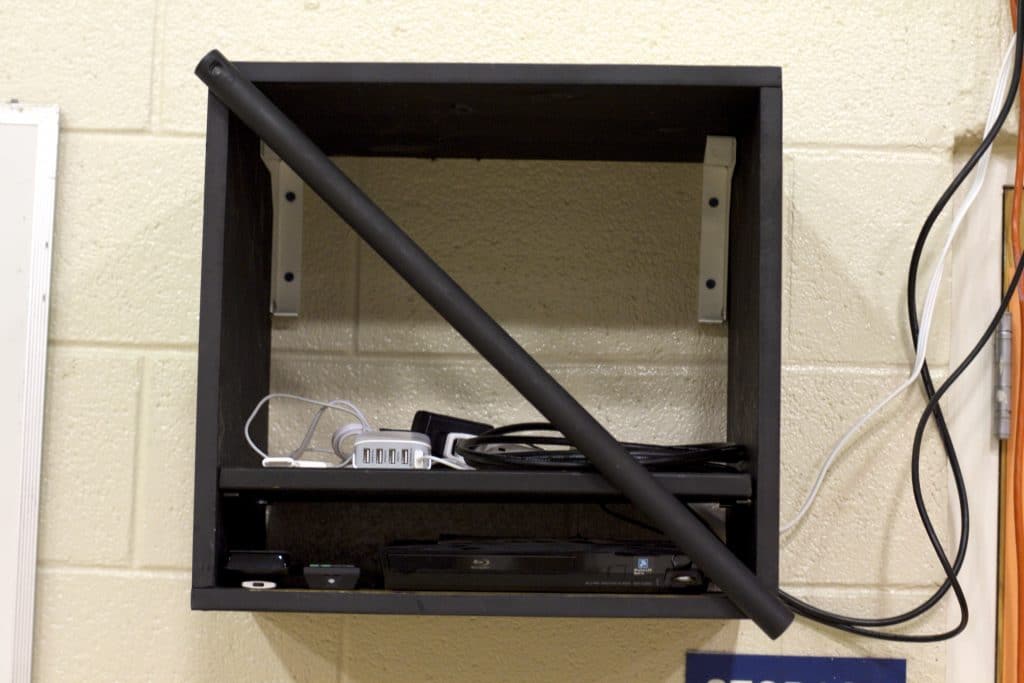 Inside the TV Box:
Inside the wall cabinet:
DVD Player – (Sony Blu Ray Player )

I got this and am very happy with it, it also has a USB for a flash drive so you can easily play digital video files or photos on your TV with a flash drive

USB Flash Drive – 32 GB flash drive

 

Multi USB charging station (Power Add Charger )
Cords for charging your devices (iPhone 5 and up, or iPhone 4 and under)
iPad to HDMI converter – (newer iPads, older iPads)

There are other converters, but these are great because they give you the ability to charge your iPad while it is plugged in to the HDMI

If your computer doesn't have an HDMI out, you will need a way to convert to HDMI, mine already has the HDMI out, so I didn't need anything else.
Another surge protector (see link above)
Bluetooth Keyboard

Not necessary, but nice if you are using your laptop for a video or presentation and want to be able to move around the gym while controlling the computer.

Presenter – For clicking through slides wirelessly while walking around your gym
HDMI Switch (5 ports)

This allows you to have multiple HDMI inputs going into one HDMI plug in your TV.  This switch is cool bc it senses when an input turns on and automatically allows that input to go to your TV – you can manually switch it as well if needed.
Other Tech Tools: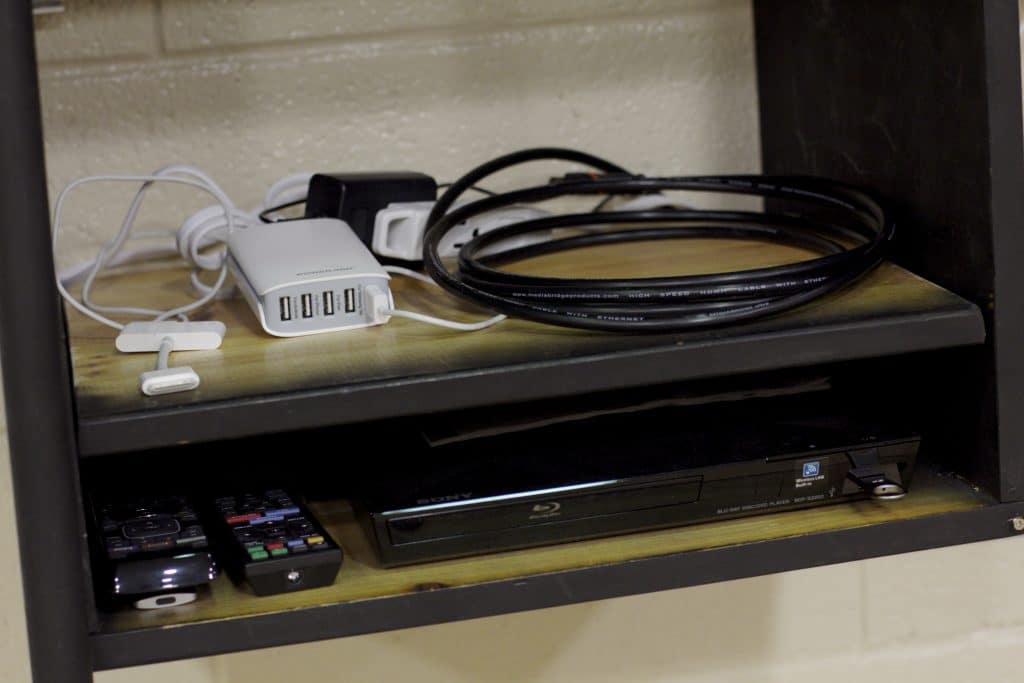 It's great to be able to wirelessly stream to your TV content from your iPhone, iPad or iPod by using a device like Apple TV, or an application like Reflector, Air Server or Airparrot. But you also want to have an HDMI to be able to plug straight into the TV as a backup plan in case your have wireless issues (which you will).
Sound Upgrade
3 Years later, I finally got a soundbar to go under the TV.   The sound wasn't horrible, but it did get a little muffled since the TV was inside of the box.  The soundbar is great and it can bluetooth to my iPhone or iPod as well in case I need a backup music player.

Here are some ways I use my TV in the gym:
I hope that's helpful if you are considering trying to get a TV in your gym. If you have any questions let me know and I will be glad to answer them.  I think that Physical Education classes can be enhanced through adding a TV and in the future I think we will see a lot more of them, especially as prices TV's continue to go down.  PE is a visual subject, so it makes sense that we should have a way to provide visual feedback and examples to this digital generation of kids.
If you're thinking about using a Projector or you just want to see other possible setups, check out the posts from some A+ teachers below for some more info: 
Good luck in your teaching adventures!
If you already use a TV or projector in your PE class, share some of your ideas in the comments!
Check out the related posts below for more Technology ideas: