What's up Friends!
This week I want to share some K-1st activities from my Frisbee Unit E-Book that I published in my Membership Program this year.  It's about a strategy I used this year to gamify and differentiate my station activities with my younger students.
The clip below will give you a walkthrough of the gamified station activities and you can also see my Frisbee throwing cues.
Pretty Cool Right?
This is a strategy that I use quite a bit when I'm teaching any unit.  Normally I design my units to be skill work mostly through stations working on closed skills in K-1 as student's are being introduced to skills for the first time.   Later, I move up into more open skills through playing modified games in 2nd-5th grades as students start to develop the skills needed to be able to use skills and play in a more open skill environment.  Of course there are exceptions, but generally that's what I've found best for my students to be successful. 
Open Skills – You perform the skill in a changing environment and must adapt to the environment or gameplay

Eg.) Pass to a teammate during an invasion game
Closed Skills – You perform the skill the same way every time

Eg.) Basketball free throw at practice
To keep station activities from getting old you can always switch them up with modifications or variations.  Recently, I've been testing the Gamified Station Activities strategy that you saw in the video above and my kids have really been into it.   I like it because it allows for differentiation between skill levels and also gives students motivation to try to progress from the easiest to hardest challenges.
The Basics would look like this over 2 weeks/lessons: 
Week 1 – students participate in skill stations, just have 3-5 minutes at each station learning and practicing the skill for the first time
Week 2 – students now have the choice of doing different levels of difficulty.  At each station there are 3 levels of difficulty set up (Easy, Medium and Hard) students can choose which they would like to try, practice for 3-5 minutes before rotating students to the next station.
Week 2 (variation) – students start at the easiest challenge and try to work their way up to the hardest.  Once they complete the hard they can either continue practice or try to give feedback to their peers and coach those who are still attempting to complete the challenges before it's time to rotate (see the setup diagram below)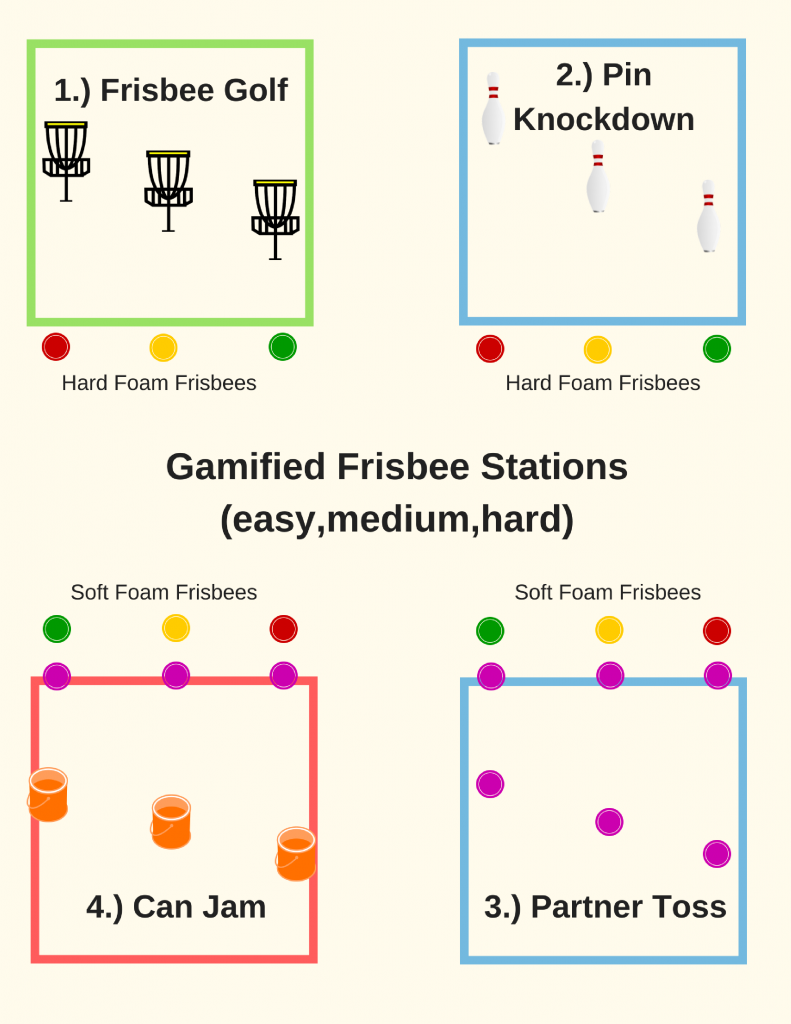 Frisbees:
Since we're inside and this is for very novice learners we're using Soft Foam Frisbees (similar to these) for the Partner Stations and Hard Foam Frisbees for the Target Practice Stations
Modification Ideas:
There are always a billion ways to modify for equipment/skill differences so just be creative.  For example, with one of my lower skilled 4K classes this year I did these exact same station activities except used a gator skin ball instead of frisbee to increase success (and decrease the chances of my frisbees getting all jacked up and picked/bitten apart by the kiddos).
If you don't have bowling pins or frisbee goals you can make targets with a ton of other items like hanging a hula hoop from the wall, or using cardboard boxes or cones with tennis balls on them.
🙂   Bonus Activity   🙂
Here's another easy target game I play with K-1st at the end of the frisbee unit.  It's gamified with the different levels as you can see in the diagram below.  You can also modify it for any skill you're working on (throwing, kicking, striking with implements etc).  My kids like it.
That's it!
I think the gamified station activities helped to keep my students motivated and interested, differentiated for different skill levels and also allowed me to get a pretty clear picture of where students were with their skill levels throughout the activity.
Try it out and let me know what you think, or if you have any advice/feedback to make it better – leave it in the comments!
P.S. If you'd like to purchase our Frisbee Station Signs Click Here or if you're a Member make sure to download them inside the Membership Area.
Have Fun and Teach On!