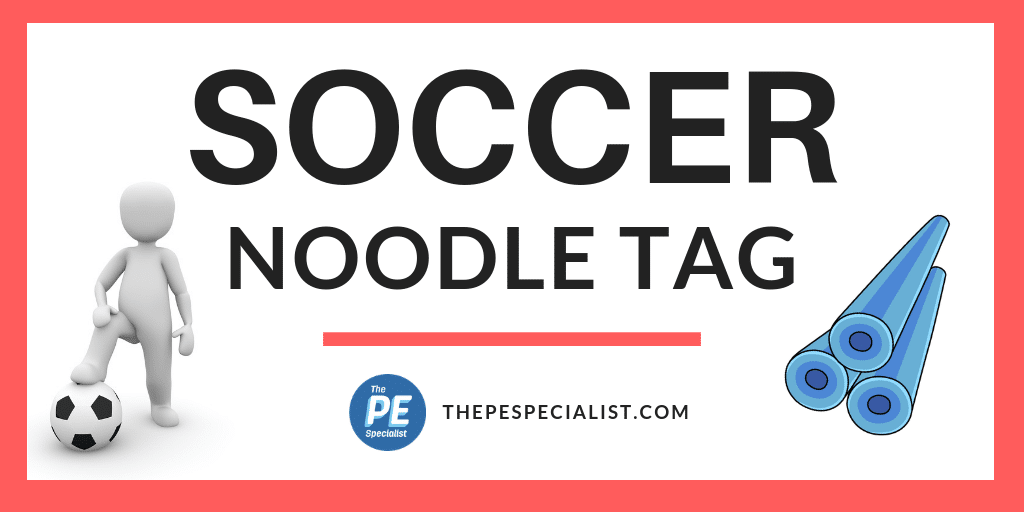 What's up Phys Ed Friends!
Today I wanted to share a fun update to an old game I've been playing forever to work on soccer skills.  Specifically this game helps students focus on dribbling with feet using control and moving to open spaces.  I hope it's a great addition to the next soccer unit you're planning in your Physical Education Yearly Plan.
Check out the video below to see me explain it to my kids: 
Links from the video:
If you don't have time for the video, check out the summary below.
Soccer Noodle Tag
Have students come and sit in the middle of the playing area so you can explain the game to them. 
In this game there will be people with a noodle trying to tag you from the shoulders down.  If tagged, just like Noodle Dance Tag, you will do a fist pump and move side to side (or another type of dance or movement if you want to switch it up).   
There will also be a few people dribbling a ball with their feet (if you have possession of a ball you are invincible and can't get tagged).  
When the players with the ball see that you are frozen, they will call your name and give you a pass using the inside of the foot.  IF you can trap the pass, you are unfrozen and can take the ball and try to pass to someone else. The person who passed the ball to you will now run around and try to avoid being tagged.
Equipment Needed: 4-5 noodles and 5-6 gatorskin balls or soccer balls for every 25-30 students
3 Ways to get frozen:
Falling Down, Getting Tagged, Going outside the boundary lines

If you have a ball you are invincible and cannot be frozen, if you get tagged while in possession of the ball you should continue playing the game
Setup:
Give out about 4-5 noodles for every 25-30 kids

Give out about 5-6 balls for every 25-30 kids (more if they are super low skill level, less to make it harder) I like to use soccer balls for older students and gator skin balls for younger students.
After distributing equipment, tell students to find open space and wait for the music to start.  Once the music starts the game begins.
After a few minutes of play stop students and rotate the noodles to students who are raising their hand to signal that they have not been a tagger yet.  Play again until all students have had a chance to be a tagger.
Easier Variation 2:
For K-1st Grades you can make it easier by allowing them to simply tag the frozen person by touching them with the ball (dribbling it into their feet) in order to unfreeze them, this will be easier than trying to trap the ball from a pass.  Once the ball touches the frozen player, they are unfrozen and will try to dribble to ball to another student who is frozen
Refinements:
Make sure you are dribbling with control, using soft touches

Taggers – make sure you are tagging softly below the shoulders

Call out a name before making a pass – Communication is important!
Variation:
Have people spread their legs and make a bridge when frozen

Instead of trapping it have the player with the ball dribble the ball between the frozen student's legs to unfreeze them (

PE Universe Video Example Here

)
Download the Game Sheet / Activity Guide Below:
P.S. – If you're a PE Specialist Member, be sure to check out the Soccer Resource Pack in the Membership Forums (Cues Poster, Unit Plan, Station Signs, Follow the Leader Videos).  If you're not a member and want more info click here for our membership info page.
Have Fun and Teach On!