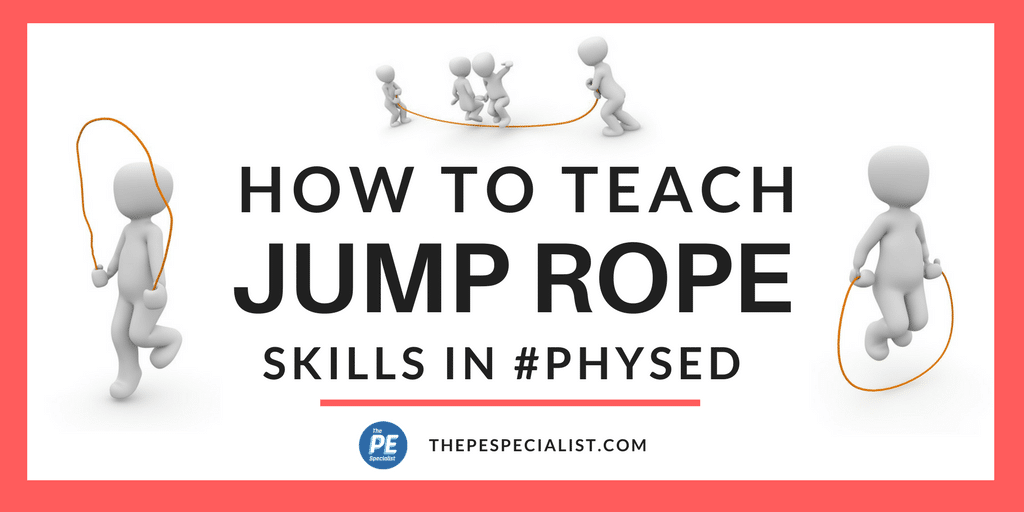 What's Up PhysEd Friends!
If you're anything like me before you started teaching you didn't really know much about jumping rope.
To be honest, I didn't know a single jump rope trick before I became a teacher.  I would have never thought that I could spend 3-4 weeks teaching jump rope to students.
Now that I've been teaching a while, I always have way more activities and things that I wish I could teach my students than I have time for – and jump rope is no different.
I've learned that there are tons of different things you can with a jump rope.  We can cover single tricks, partner tricks, team jump rope games and then there's a whole host of "jumping" activities and games that you could bring in as well.
Why spend so much time on it?
Well because it's a super low cost activity that you can pack up in your bag and take with you literally anywhere to have a "ready to go" activity that will give you exercise and is a fun way to stay healthy.
When planning my curriculum I usually try to plan my units and activities based on how likely I think my students are to use the content I'm teaching them outside of class.  Of course, I reference standards and curriculum guidelines – but ultimately it comes down to how useful is it going to be for my students.
Ok, so now that you're sold on how great jump rope is and why it might be a valuable things for your kids to learn, let's get into it.
But First… Management
As you can see in the video above, I think that taking the time to teach your kids how to fold up ropes, turn them in and getting some good start stop procedures is super important for making the most of your time and avoiding a big knotted mess of jump ropes.
Also, jump rope carts are great – but I really prefer my door rack.
What Size Should I Get?
Check the video above for an easy way to help your students figure out what a good size rope is for them.  In my experience the estimate below works pretty well:
K – 7 foot ropes
1st – 2nd – 7-8 foot ropes
3rd – 5th – 8 – 9 foot ropes
Every student is different, so ultimately I leave it up to them, but many times when I see a student struggling it's because their rope is too short and when I give them a bigger rope they are more successful – so it's something to keep an eye out for.
The trick for measuring your rope by standing on it and pulling the handles up to see if they reach your shoulders is a good rule of thumb.
Note: I also have 10 foot ropes for doing partner jumping or team rope jumping with my K-2 students.
Let's Start Planning!
I usually start planning by thinking about my Vertical Alignment – this is the concept of each instructional year leading to the next and then building on each other to work together to produce Physically Literate students by the time they leave your program.  It helps me to check the SHAPE America Grade Level Outcomes for a basic idea of what students should be able to do based on their grade level.
For example, the jump rope skill GLO's are summarized below: 
Kindergarten

Can do a single jump over a self turned rope
Can jump a long rope with a teacher turning

First Grade

Jumps forward and backward consecutively with a self turned rope
Jumps a teacher turned long rope 5x consecutively

Second Grade

Jumps a self turned rope forward and backward consecutively
Jumps a long rope turned by classmates 5x in a row

Third Grade

Performs intermediate jump rope skills
Is able to run in and out of a long rope

Fourth Grade

Creates a jump rope routine with either a short or long rope

Fifth Grade

Creates a jump rope routine with a partner using a short or long rope
*Of course, these are just recommendations or guidelines, you can get creative and ultimately need to do what you think is best for your students.  Hopefully you're kids can exceed the GLO's, but it gives you something to start with if you're not familiar with what age appropriate expectations for your students might be.
How do you structure your Unit?
First of all – Kindergarten is a little off on their own since many of them are just learning to jump for the first time, so I do a basic lesson on jumping and turning the rope and then we spend the rest of the unit practicing in different stations.  I also sprinkle in some hula hooping and hoop jumping to give them a little break from the jumping.
You can see the way I teach Kindergarten to jump rope in the lesson below: 
After teaching them the basics we just rotate through different stations for the remainder of the unit to give them as much practice time as possible (this is really the main thing that will allow them to learn the skill)
Some station examples (Good for K and 1st Grade):
Jump with the rope on the ground
Practice your turn with the handles in one hand
Practice your "Turn and Jump"
Practice your "Turn and Jump" backwards
Practice jumping with the "Thunderstick Challenge" see video later in this post
Practice Hula Hooping
Practice Hula Jumping
Practice jumping with the game "Snake"

Tie a long rope to a bench/chair and have a student shake it back and forth while the others try to jump over it – if you touch the snake or fall down you take a turn shaking the snake
Week 1 – Single Tricks
Before getting into instruction, I like to connect and inspire my students by showing them an amazing video related to the unit This Playlist Has Some Jumprope Examples – I really like This One because of the positive message.
With my 1st – 5th students I spend the first week going over different jump rope tricks.  I use the framework of Basic, Intermediate and Advanced as you can see explained in the overview video below:
Like I said in the video, this is a great framework – but it's important to remember that all of your students will be on different levels, so don't expect perfection – just have fun 🙂
I also use my Animated GIF and Follow the Leader Videos during week 1 to help give students visuals of the tricks.
P.S. You can download the Jump Rope Tricks Poster for free at the bottom of this blog post
Another note that applies to this entire post (and any of my curriculum ideas) is that if this is your first year teaching at the school and implementing this unit, there's a good chance the student's have never had previous instruction on the content. So that means that everyone will be starting at a much lower level.  As you continue to teach your kids, their knowledge will grow and you'll achieve "Vertical Alignment" (a big word that just means what you teach in Kindergarten will lead into what you teach in 5th Grade as students build on prior knowledge)
It's all connected, but remember that the first year you implement anything (management strategies, teaching philosophies, curriculum frameworks) change will take time… a long time (one of the lessons I was reminded of at the SCAHPERD conference)
The Endurance Challenge
In addition to teaching the single tricks I also let my kids attempt "The Endurance Challenge" each week during our unit.  You can see an explanation of how it works in the video below:
It's pretty simple, glue or tape some paper up on the wall and give kids an opportunity to jump as long as they can.  There are a ton of different modifications and even applications of this idea in other units that you might be teaching.  It's a great little way to assess students and also motivate them to set a goal for themselves.
I normally use an App called "Stopwatch+" but also keep a 5 minute timer video on a USB stick to play on my TV just in case – Here's the 5 Minute Timer video if you want to use it.
Props to Teri Elliott for making her endurance wall look way cooler than mine.  This is a classic example of taking an idea and making it way better + using your unique talents/skills to improve it.  Check it out in the tweet below: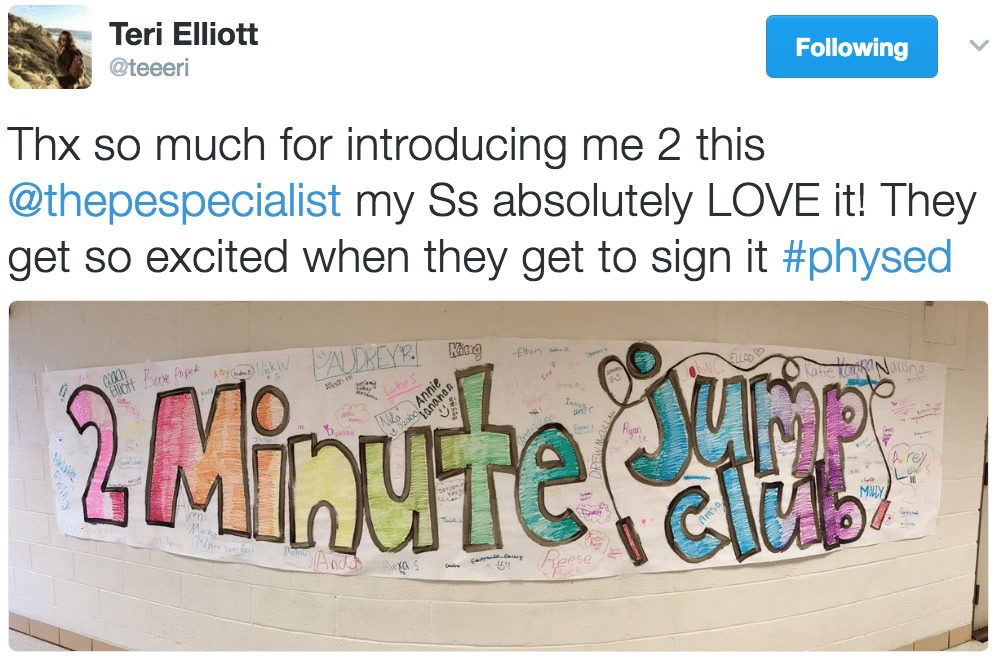 Week 2 – Partner Tricks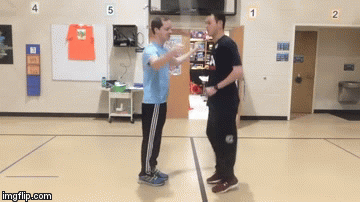 To kick off our second week I usually review the Single Tricks from the previous week and go over any tricks that we might not have had time for.
After that I give the kids a chance to try the "Endurance Challenge" as you saw explained in the previous video.
Then we get into some Partner Tricks Jump Rope Tricks.
Details and a demonstration of my 2 favorite partner tricks in the video below: 
There are A TON of partner tricks if you just google around you can find more tricks to show your kids if you have time.
Note – I only do partner tricks with 2nd – 5th.  With 1st Grade I focus on single tricks and station activities to help them build up their skill level.
Week 3 – Team Jump Rope Activities
During week 3 we do some quick review, hit the Endurance Challenge again and then get into some Team Jump Rope Activities.
1st and 2nd Grade learns how to turn a long jump rope (I use a 10 foot rope) and practice learning different jump rope rhymes.
Consult "Dr. Google" for some jump rope rhyme examples
With 3rd – 5th we play a game called "Run Through School" with long team jump ropes
Rules of Running Through School: 
Turners must turn slow, making big circles and the rope should hit the ground and move AWAY from the line
Everyone starts in Kindergarten, since Kindergarteners don't know how to jump rope they have to run straight through the rope
If you pass K, you are in 1st grade.  From every grade going forward you jump 1 time for each grade that you've passed (first graders will jump once and then run out of the rope)
If you make a mistake (miss your jump, hit the rope) – you take a turn turning the rope and the turners get to go to the line and try to jump in
Note: I also use popsicle sticks to help my kids keep track of what grade they are in, if you pass a grade you get one popsicle stick
Week 4 – Stations & Long Rope Tournament
The last week of the unit I do stations with my little ones, Run Through School with 2nd Grade and the 3rd – 5th graders do a Long Rope Tournament called Whirlwind, you can see an example below:
The Thunderstick Challenge
For your younger kids you can play a game called "The Thunderstick Challenge" check out the video below for an overview:
Check out an example of a DIY Thunderstick below: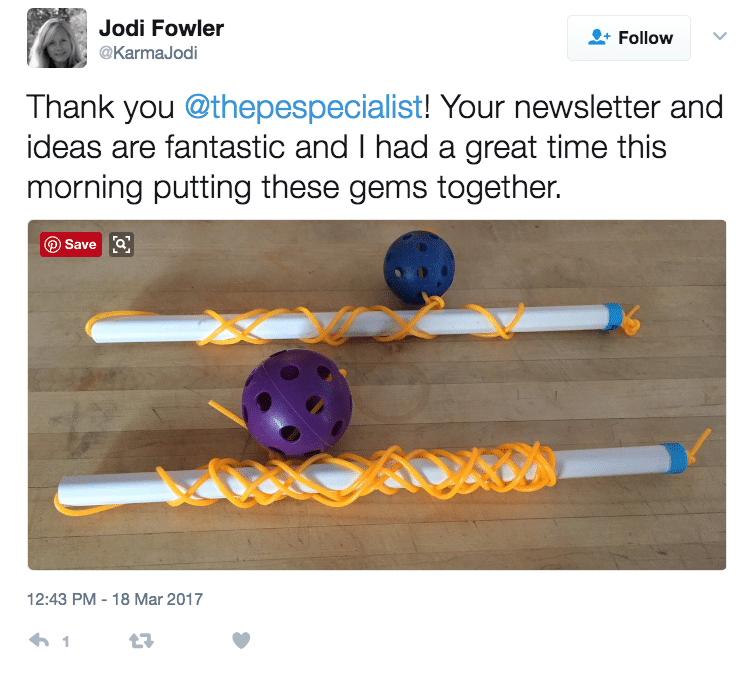 If you want to use my Jump Rope Trick Chart Poster, you can download it for free below:
The Jump Rope Resource Pack
If you want to upgrade your unit with some super sweet resources you can get my Jump Rope Resource Pack below (or if your a PE Specialist Member you can download it for free by logging into the Membership Area)
You can see a preview of what's included in the video walkthrough below:
Included in the Resource Pack

4 Week Unit Plan Sample
Printable Jump Rope Station Signs
Printable Jump Rope Certificates
Create Your Own Jump Rope Routine Worksheet
Jump Rope Trick Checklist Activity
Jump Rope Trick Chart Poster
Got some ideas I didn't mention?  Leave them in the comments!
Have Fun and Teach On!