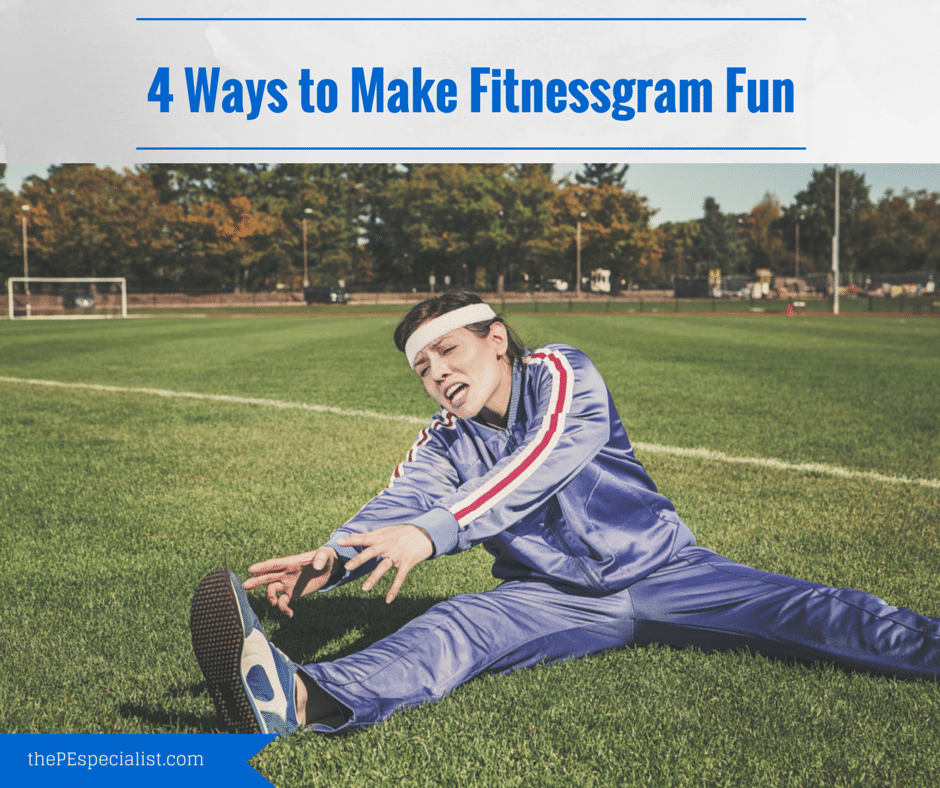 Fitnessgram can sometimes be an assessment that your students might dread, but I think it can also be something that kids look forward to if you build the right culture in your gym.  I've done 4 main things that I think have helped my students enjoy taking The Fitnessgram and I think they can be used in any program.
Set the environment
You have to motivate those underachieving or out of shape students by reminding your classes that we shouldn't worry about the person next to us, instead we should worry about improving ourselves to become the best version of yourself that you can be.
Fitnessgram is a great opportunity to talk about personal goal setting and self improvement.  Also, it's good to make sure your students know all the benefits of fitness – they might not care about being athletic, but when they find out that being fit will increase their academics and lower their stress levels, it might be more appealing.
The most important part of setting the environment is making sure your students know WHY you are doing fitness tests.  I talk to my students before each test about why we are doing different tests.  It's NOT for a grade.  It's NOT for a workout.  It's NOT because we have to.  It is because I want them to understand where they stand with different levels of fitness and also have the ability to set goals for the future and measure improvement. 
Hold an awards ceremony
The last 5 years that I have taught, we have given out certificates to students for either maxing out a fitness test, or scoring the highest in the class.  We do this in an awards ceremony at the end of each class during our fitness testing period.  After handing out the award, I usually ask the student what their secret for success is – it usually relates to practice, which is a good connection to help your students make.  This is a great motivator for those high achievers to push their limits and try and do their best.
The certificate is also a great parent communication tool, since every student will go home and show their parents – it reflects positively on your program.  An example of the certificate can be found below and I sell them as a bundle on my resource page.
Class Rewards
We always plan something really fun for students after testing.  This will depend on what your kids enjoy, but let them play one of their favorite activities or games to reward them for their hard work.  This is also helpful to use as an incentive for students to get testing done efficiently – that way they will have more time to participate in the activity or game that you have planned.
Create a Fitness Hall of Fame
Since I started teaching at my school I have posted the overall school records on the wall in the gym.  This is a lot of fun for students to look at, especially those with older siblings who are still on the wall.  I have even had students come back and visit to see if their name was still on the wall.  It's interesting that what usually happens is a record gets broken by 1 or 2, that's it.  This is because once you reach a certain level, physical endurance becomes more a mental game than anything and without those records to shoot for – students wouldn't push themselves like they have.
Anytime a student breaks a record, we always congratulate them on the morning announcements for their excellent achievement and I update the Hall of Fame at the end of each testing period.
My first version of the Fitness Hall of Fame
My new and improved fitness hall of fame
Some people might not agree with posting high scores or rewarding the highest scoring student, but I do think that sports are competitive in nature and I don't have any problem with handing out rewards and posting overall school records to encourage and motivate students to do their best and push their limits.   I think it all depends on the environment you create in your class as to how students will respond.
If I had more time, I think it would be cool to do a "Most Improved" student award as well, but I haven't been able to fit that in yet.
You can purchase my certificate bundle pack below, or by going to my Resources Page.  There are 15 certificates included "Best in Class", "Most Improvement" and "Excellent Achievement" for Pacer, Curlups, Pushups, Sit and Reach and the 1 Mile Run.
*NOTE: Before you buy this pack, I just wanted to let you know that it's included in the huge library of downloadable member resources.  If you're interested in details on becoming a member, CLICK HERE FOR MORE INFO.
If you have some ideas for making fitness testing fun, leave them in the comments, I would love to hear them.

P.S. Here's a detailed overview of How I do Fitness Testing in PE
P.P.S. If you want to see how I do the Pacer Test, check out the link below: