This is a great management system that I created in order to cut down on the time I spent dealing with students who were unable to participate in class.  It allows the teacher to focus more time on teaching, gives the student some accountability and increases parent communication.
As a new teacher I realized that many of my students were coming to PE class without the proper shoes, wearing dresses or claiming they did not feel good. I found that I was wasting time at the beginning of class dealing with these issues and wanted to create a system that would automate and take care of the majority of these issues without forcing me to waste any instructional time.
So I created this worksheet, which I go over at the beginning of the year with students so that throughout the year, I don't waste any instructional time and parents know if and why their child is missing any PE time.
I have created a full page worksheet and a half page worksheet for those that want to save paper.
Check out the video below for an overview of the system:
The best way to implement this management system is to have multiple forms already on clipboards hanging on the wall and explain the procedure to students. Our students know that when they walk into the gym with inappropriate shoes or are injured/not feeling well they to go directly to the wall, take a clipboard and pencil and fill out the form.
This decreases distraction for the teacher and streamlines the beginning of the lesson, which can sometimes become delayed when students immediately come up to you with excuses about being unprepared for class or excuses about not feeling well.
We also use this form if a student needs some "re-focus" time or needs to go to time-out after 2 warnings. They fill out the form, we have a quick talk and then they return to the activity, the parent signs it to acknowledge they are aware of the incident and then they bring it back.
I will add that as PE teachers I think it should be our main goal to create active kids. For this reason as long as the shoes are not a safety concern I usually let the student participate after filling out the form.  For example, high heels will never be safe for PE class. Flip flops might be OK, but not if we are doing jump rope activities or soccer.  I allow kids to participate whenever possible because I want them to get the activity and hate to see kids missing out on instruction. This way the parent still gets a note from me about the student being unprepared and the student still gets to learn the content and participate in the activity.
If the student is physically unable to participate I try to find an alternate activity for them.  For example, if they have a sprained ankle, I'll put an iPad workout on for them (see the Instagram post below or check it out on instagram here)
That's just what I've found to work for my program, but you can make your own decision about what is best for you. Also, remember that the best motivator for kids to come to class prepared is to make sure that what you are teaching is valuable to them and fun to participate in – that way they won't want to miss out on it.
I hope it works for you as well as it has for us!
Another idea you could use is this one from Greg Climan – create a class challenge to use some peer pressure to motivate students to wear the right shoes to class – great idea!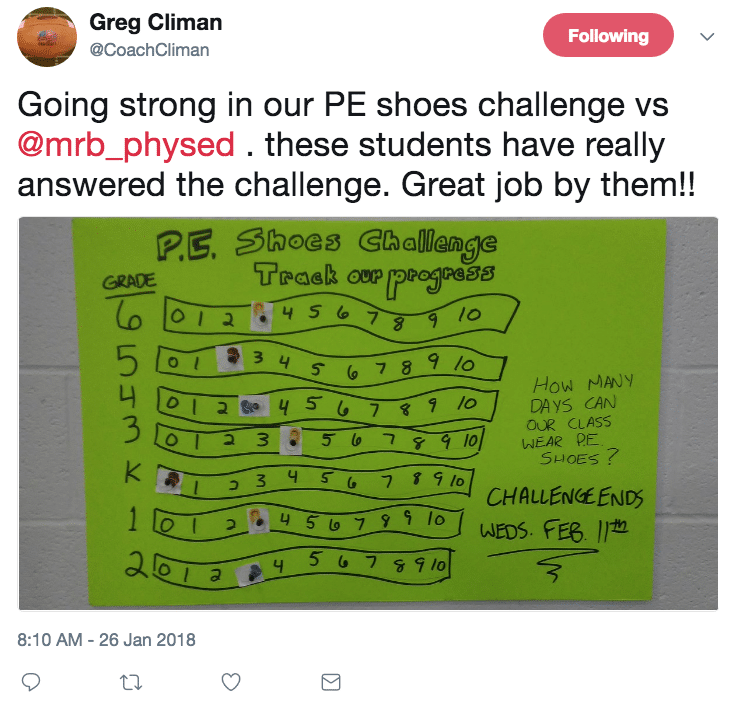 Download the form you see in the video below:
UPDATE: I created a new form recently, you can find it below:
P.S. For tips on how to handle "Fake Injuries" check out our FAQ Page
Have Fun and Teach On!