The Conflict Corner
This one management strategy has saved me countless hours of listening to tattle-taling, resolving student conflicts and also empowered my students to figure out ways to solve their problems without the help of a teacher.
The way the Conflict Corner works is by making sure students know that any time they have a problem with someone – maybe they saw them cheating, maybe they saw them break a rule or do a procedure incorrectly, maybe they don't like the shirt they are wearing… it could be anything really – before they come and tell a teacher about it they must first ask that person to go to the conflict corner – if a person asks you to go to the conflict corner you are required to go – that's part of using Good Sportsmanship – working out your problems together.
Ultimately, you are teaching your kids a valuable skill and helping them develop some personal responsibility and take ownership of the class – that's a good thing for your class culture. 
At the conflict corner you will follow the steps listed (see a demonstration of this in the video below).  If after going through the steps listed the student's still can't come to a resolution they can come get the help of a teacher.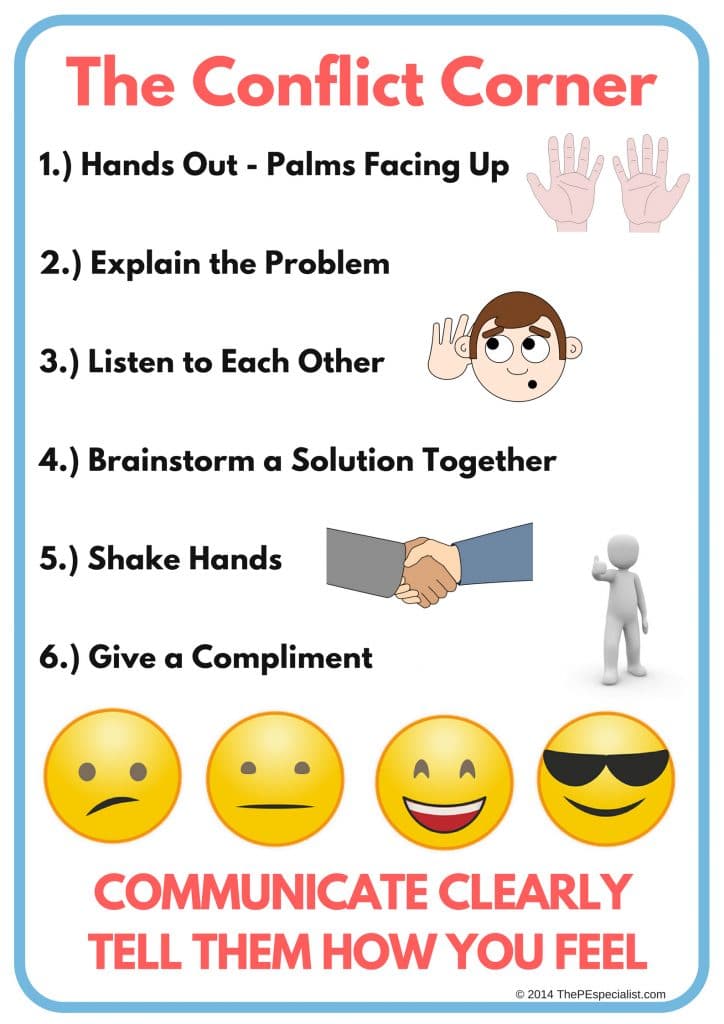 This has cut down 95% of my issues with tattling in the gym – most kids just don't want to waste anytime and realize that whatever they were worried about wasn't a big deal anyway.  Lets push our kids be independent and help them to learn some valuable communication skills.
Skeptical about Step 1?
Check out the recent research on Power Poses and how it affects your bodies hormone levels, you can google it, or read this article which sums it up nicely.  Or watch Amy Cuddy's Ted Talk on body language.
Thanks to J.D. Hughes for originally giving me the concept for this idea with his "Problem Solving Table" in the book "No Standing Around in My Gym" and also to Marcus Nellems who I am honored to co-teach with every week, for the excellent demonstration.
Also – the conflict corner can be a"cross-curricular activity" see below 🙂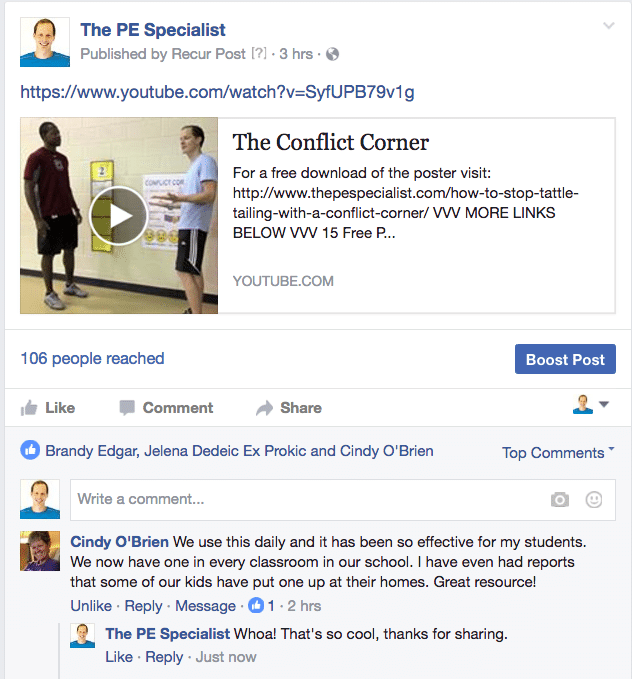 Check out another cool activity shared by Tanner Roos on Twitter below – print Conflict Corner on normal pages and write scenarios for students to practice on the back – Great Idea!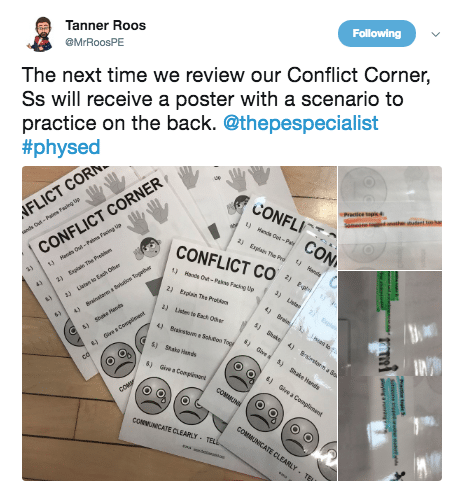 UPDATE: A fellow Phys Ed Teacher and Blogger Joey Feith (ThePhysicalEducator) Created a very cool re-design of the Conflict Corner Poster and has it posted up on his blog – Check it out HERE 
P.S. For a Tour of EVERY POSTER in my gym: CLICK HERE
Have Fun and Teach On!