Wow – this year has flown by!  Although, for me at least the last couple weeks of school seem like they go on FOREVER 🙂
The end of the year isn't just a time for students and teachers to get stir crazy with that summer fever – or for students to spend hours and hours anxiously sitting in a desk to answer 100 multiple choice questions in order to determine their future level of success… It's also a great time for End of the Year Surveys!!!
If you've been around on this blog since the beginning you might remember me posting about my End of the Year Surveys previously.
Basically to sum it up for you in case you don't have time to click the link above – I always like to give my older students a survey at the end of the year to get some feedback and insights into what is working with my program, where I might be failing my students and ways I can improve my program during the following year.
Your students are the most qualified people to give you insight into your teaching – they are the one's you should be catering your instruction to.  
Do you know your students interests?  Do you know what they enjoy?  Do you know which units are the biggest hits and which units are a struggle?  Maybe you have a good idea – but it never hurts to ask.  You might be surprised by the results.   Especially if the surveys are anonymous – they'll be happy to give you some honest feedback.
Previously, I've always done a paper pencil survey – super simple with a few questions: 
What are your 3 favorite activities we've done this year?
What are your 3 least favorite activities we've done this year?
What are some activities that you wish we had done, but we didn't?
What is some advice you would give future students to be successful?
While the feedback was always great – I hated having to record the paper/pencil answers to get percentages and see any trends throughout the school.  So this year I finally did it – I got all Techy and went digital with my surveys using iPads and Google Forms.  Since I don't have enough iPads to go around, I just set it up as a station activity during our last couple weeks of school.  (More tips for stations Here)
Check out the video below to see how I did it and what the survey looks like inside Google Forms: 
Links from the video:
A few of my favorite responses from my kids:
What's the most important thing you learned in PE this year? 

"I think the most important thing I learned was to practice activities after school and keep going if you are tired and always keep trying harder to achieve goals"
"That you don't have to be perfect to have fun"
"To solve problems on my own"
"Beef- B- balance e-eyes e-elbows f-follow through… The cookie jar!!!" 🙂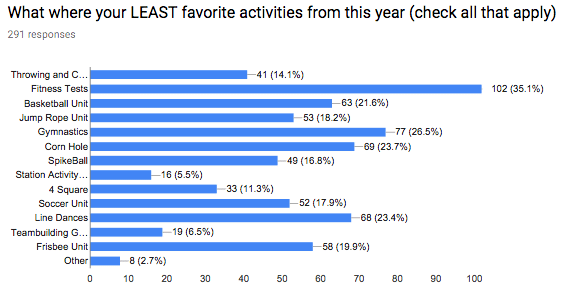 *Yikes – I need to find a way to do fitness better – I want to make it more fun, personalize it and help make it more meaningful for kids.   I also realized after looking at this that maybe a better way to phrase the question would be "Where there any activities that you did not enjoy".  This is going to be something I'm going to explore next year.
Can you give advice to students who will be in PE next year? 
"Just to try your best and always get up again. Never feel like a failure"
"Pay attention. Almost everything Coach Landers says is valuable info" 🙂 for real though… 🙂
"Exercise set goals and have fun!"
"Practice practice practice because practice makes perfect."
"Do not talk when the teacher is talking it will waste your time."
"All the students next year should keep going and don't give up on something even if it is hard you should still try and give it your all in P.E because you never know what activity can change your life mine is soccer."
"Do your best at everything, you're not going to win all the time"
*I really love that last question – I feel like it's a good indicator of the kinds of philosophies you focus on with your students and reflects what you think is important – or at least the things you have communicated to your students to be important.
You can also take your students' responses and paste them into the text box over at Wordle.com and create a cool poster with your schools philosophies (see below for an example)
That's About It…
I really think having your students complete surveys is a great way to get some insight into your teaching and your students interests and perspective.
Ideally, I would love to sit down and have a one-on-one conversation with each and every student, but unfortunately that's not possible – this is a great second best solution that allows students to give me honest feedback and then I can go back and review their answers when planning for the next school year.
Have an AMAZING close to your school year and get some rest over the summer.
As always…
Have Fun and Teach On!