So it's the end of the year, you are getting grades into the computer, printing fitness reports, planning for or recovering from Field Day and the kids are bouncing off the walls as they feel their summer vacations getting closer and closer… Sound Familiar?
BEFORE THE YEAR IS OVER, Don't Forget to survey your graduating students
As you put a wrap on the year, don't let your graduating students leave your program without giving them a chance to over feedback to you on how you can improve.  Your graduating students are the most qualified people to give you insight into your teaching:
They are the ones who have been taught by you
They are the ones whose interests you should be catering instruction to
They have no reason not to be honest with you since they are leaving the school
Every year at the end of the year I give my 5th grade students a survey with 4 questions.
What are your top 3-5 favorite things that you remember doing in PE class?

This lets you know your students interests and hopefully reflects your curriculum
What are your 3-5 least favorite things that you remember doing in PE class?

This helps you gain perspective on subjects or areas of teaching that you might not be doing as great of a job on, or that aren't as relevant to students.  Also, many times students will have the same 3-5 least favorite as other students 3-5 most favorite – this is great data to show your students and have a conversation about how everyone has different interests and we have to respect everyone and provide a PE program that caters to each student.  Even if it's not your favorite thing, you should try your best and work hard to get the most out of the instruction.
Is there anything that we did not learn that you wish we had?

Another way to gain insight on areas that you might be missing that students are interested in
If you could give some advice to our future students about PE class, what would it be?

This is the golden question – this is where you can really tell if you've done a good job communicating your PE philosophy to your students.  Their answers should reflect the things that you are constantly reminding them are important.
Analyzing the Survey Results
A fun thing to do if you want to see your results is copy and paste them into a word cloud using the www.Wordle.net website.  It will display the results that are inputed more often in bigger text proportionally to how many times they are entered.  See below, I created a Wordle for my students answers to their favorite activities (Can you guess which was their favorite)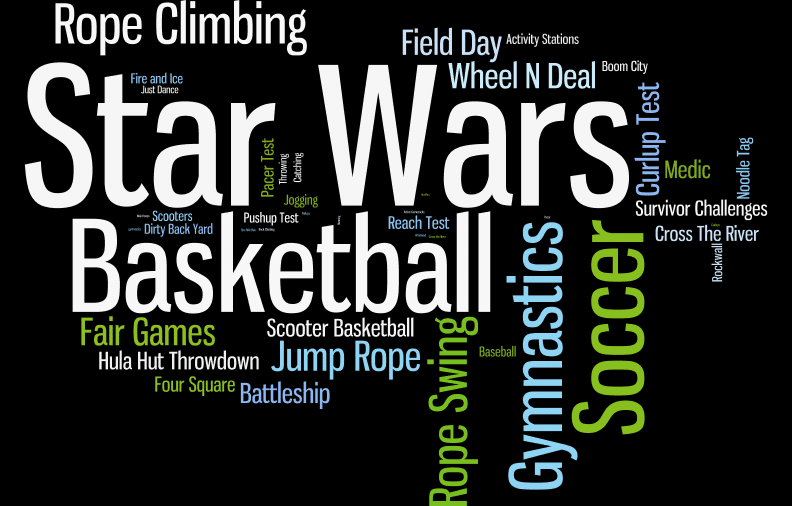 And here's another Wordle on their advice for students in the future.  I was pretty happy with their comments.
One Improvement for Next Year
One thing I'd like to try next year is get away from the paper and pencil survey, by doing this survey online in the computer lap, or with iPads as a station in the gym and have the answers automatically send to a Google Form so that I can save some time when creating the word clouds.
If you still have time with your students, don't let them leave before you ask them for input in helping you improve your Phys Ed Program!
Finish strong and have an awesome summer break!
UPDATE:
I finally used iPads + Google Forms – check out the tutorial on setting it up for yourself HERE
Have Fun and Teach On!