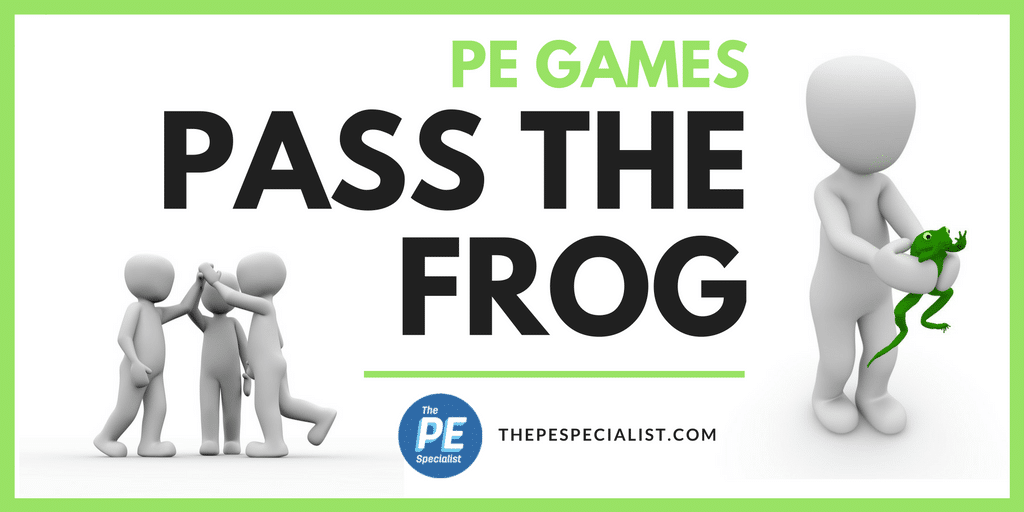 This is a great teambuilding activity or icebreaker that you can play with your Physical Education classes.  I've used it with Kindergarten through 5th grade and even with adults.
It's easy to setup because of the low equipment and there are tons of variations and ways to play to make it appropriate for different age groups.
Check out the video below for an example of one way to play the game:
Don't have time for the video?  Let's review the basics below: 
GOAL:
To work together with your team to get the frog around the circle as quickly as possible using the designated body part.
RULES:
You may only use the designated body part to pass the frog
If the frog ever touches the ground you must start over
If someone uses a body part other than the designated body part you must start over
If you make it around successfully your team will advance to the next level
LEVELS:
LEVEL 1 – Use only your hands
LEVEL 2 – Use only your elbows
LEVEL 3 – Use only your knees

Note: This isn't shown in the video, but I add this level in for my 3rd – 5th graders

LEVEL 4 – Use only your feet (Here's an example)
Variations: 
To increase difficulty, when a team advances they must complete all the previous levels again during each round before attempting the new challenge.  I do this with my 3rd – 5th grade students.

For Example

Level 3 – first go around with hands, then with elbows then with knees (three times around the circle total).  If it drops start over.
And that's it! Simple, easy and low setup.  You can make up your own levels if you want – get creative and have fun!
Download the game sheet below if you'd like
Have Fun and Teach On!