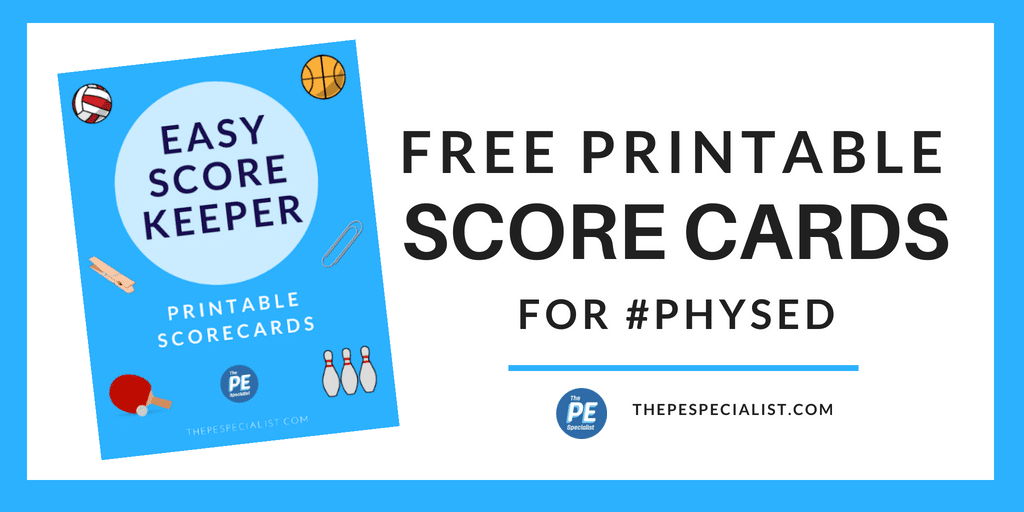 This post will be short and sweet, I just wanted to share a simple resource that's been really helpful in my PE Classes.
Many of you might have already seen Mike Morris share his awesome spin on the game of Polish Frisbee which he called Dice Bonk (Here's the Tweet).
I played a few variations of it last year and my kids really enjoyed it, just like any game there are tons of ways to modify it and different ways to play while practicing different sports or skills.
What I really like about the game is that you have to have skill to be able to score, but there's also a healthy amount of luck involved (based on what number the dice lands on).  This "luck element" really makes for a fun game where you don't always dominate just because you're good at the skill.
The game was super cool but…
I love the game – but when I saw the tweet, what really caught my eye was his Dice Bonk score card – such a simple way to allow kids to keep track of score.
At the time I was using tally marks on a blank sheet of paper to track score, it was kind of a pain – we were always running out of paper and the pencils were often breaking or markers would dry out.
"Why have I never thought of this?" I asked myself…
So I created my own to work with paperclips and tried them out with my students – the kids loved it – I had less arguments about what the score was and that means more time playing the game (this is a very good thing).
Another cool idea I saw in the comments was using a yard stick + clothespins to keep score, but I didn't have any yard sticks… so I made some scorecards.
Super simple – just print, laminate and they are ready to go.

Now I use them any time we are playing a 1 v 1 or 2 v 2 yard game that goes up to 21 points (Corn Hole, Kan Jam, Bocce Ball, Dice Bonk, Spikeball).
Feel free to download my scorecards below if you think they'd be useful
Also, make sure to give Mike a follow on Twitter – he's always sharing awesome ideas (for example Dice Jam)
Have Fun and Teach On!