Jumping rope is hard when you're in Kindergarten.  It takes a lot of coordination, practice and it can get pretty frustrating.  It helps to approach teaching jump rope just like any skill, taking those baby steps and allowing kids to explore the different stages and then combining them together.  Also, use some of the basic goal setting strategies to motivate your kids to believe in themselves and help them remember how important it is to persevere and avoid giving up.
Buy In and Commit
Just like that new workout plan or your Masters Degree – you have to realize the benefits, remind yourself why it's important and then commit to yourself that you are going to finish – "begin with the end in mind" – Steven Covey
 Jump
Just work on the basics. It's a lot easier to work on jumping before you start turning the rope, just put it on the ground and practice jumping over it correctly.  The easiest way to "jump-rope" is when the rope is on the ground and you jump over it.
 Turn
Now practice turning the rope nice and slow – don't jump yet, figure out the turn first and then you can add in the jump later.
Jump and Turn
You are ready to go, add those 2 skills together and remember "TURN FIRST…THEN JUMP"  make sure to turn nice and slow, not too fast.
Celebrate those Wins
Give your kids some encouragement and really celebrate their improvement, even if it's just getting better at line jumps with the rope on the ground, it's important to realize that practice leads to skill improvement.
Click the picture below: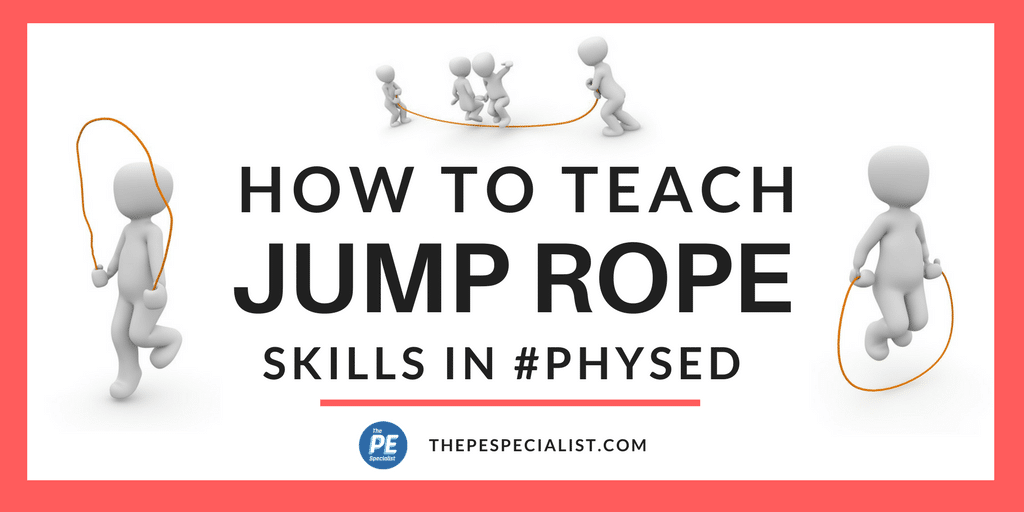 Have Fun and Teach On!